Design Matters
Design Matters is a thought-provoking lecture series that brings to Calgary a range of designers, innovators, and thought leaders exploring the edge of design and city building.
Exploring how we could create a better future through design
Design Matters is a thought-provoking lecture series, organized by the School of Architecture, Planning and Landscape, which seeks to inspire transformative change. Lectures are delivered from September to May, and feature provocative speakers who examine the latest ideas in architecture, regional and urban planning, and landscape architecture. The lectures challenge attendees to broaden their thinking on a myriad of issues related to design.  Design Matters engages students, public officials, industry professionals and interested citizens — people who want to learn, understand and address design issues affecting our community.
We seek out speakers from across North America and around the globe. The lectures spark conversations about a variety of societal issues by engaging with innovative thinkers. Attendees are encouraged to recognize the important role design plays in our daily lives. 
Join industry professionals, faculty, students, alumni and people in the community who care about design and building a great city at an upcoming lecture!
The Canadian Council of University Schools of Architecture (CCUSA) initiated its first pan-Canada lecture series in response to COVID-related restrictions on traveling and large gatherings, inviting students and practitioners across the country to join the conversation. The 12 schools of architecture agreed upon "diversity" as the theme for this year. The school are taking turns to present two lectures a month starting on the west coast and moving across Canada. Read the full September 21, 2020 announcement.
SAPL hosted the second event of the series. Titled "Equity in Design + Design Education", Alberto de Salvatierra moderated a conversation with Wandile Mthiyane, Dr. Craig Wilkins, Martina Jileckova and Vivian Ton. In the spirit of sharing and knowledge dissemination, a recording of the event is available on our homepage at sapl.ucalgary.ca until September 30, 2020 to make the content accessible for those who had scheduling conflicts or live in other time zones.
Full lecture series schedule and registration information at http://study-architecture.ca/pancanada2021
Welcome to Design Matters, where we discuss popular topics and bold new ideas in design. Based at the University of Calgary, our student hosts look to delve into popular topics and new ideas with today's leaders of design in the built environment.
Connect with us on Instagram @designmatters.podcast and email us at podcast@sapl.ucalgary.ca
Hosted by: John Baziuk, Emily Kaing
Energetic, intelligent, and want to activate events? Email design.matters@ucalgary.ca to start the conversation.
Consider yourself a can-do type? Student podcast co-hosts John Baziuk (MArch'21) and Emily Kaing (MLA'21) are looking for support on the Design Matters episodes. Write to podcast@sapl.ucalgary.ca and help out.
Where: City Building Design Lab, 616 Macleod Trail SE.
Dates: Details below
Time: 5pm reception | 6pm lecture 
Tickets: $10 for the public | free to students
The series challenges people to broaden their thinking on a myriad of issues related to design and city building and the pre-lecture reception is an opportunity to meet and mingle with Calgarians who have a passion for design and the promise of building great cities.
SAPL gratefully acknowledges support for the Design Matters lecture series from Calgary Downtown Association, Canadian Wood Council, Carson McCulloch, exp., SSRHC, University of Calgary Alumni, and Wood WORKS!.
March 2020 
Reflections on First Nations Scholar and Fourth World Space. The late Shuswap Chief George Manuel is often credited for first publishing the term "Fourth World" in his 1974 publication, The Fourth World: An Indian Reality. Upon contemplating the systemic political and socioeconomic disparities existing among indigenous peoples, Manuel's Fourth World was a call to action, independence, and nationalism particularly for First Nations peoples of Canada in response to immeasurable injustices experienced through European expansionism, violence, domination, colonialism, imperialism, and genocidal actions. The United States is a Fourth World Nation as a result of the manner in which it was established, how it developed, and that it has failed to confront its ever-increasing unevenness. Fourth World Theory provides a foundation for a critical investigation of society and culture though an analytical lens, and an examination of the inequities increasingly prevalent throughout a post-industrial, post-agrarian, post-developing space of inevitable decline. Will Canada follow in this regard, or will it lead by example, re-imagining life as a means to heal humanity—a humanity subjected to the ills of hatred, greed, and power for its entire existence?
The Gillmor Lecture is named in honour of Douglas Gillmor (1930–2019). The founding director of our architecture program and a pivotal member of SAPL (formerly the Faculty of Environmental Design), Professor Gillmor was a compassionate and thoughtful studio teacher who shaped generations of Calgary practitioners.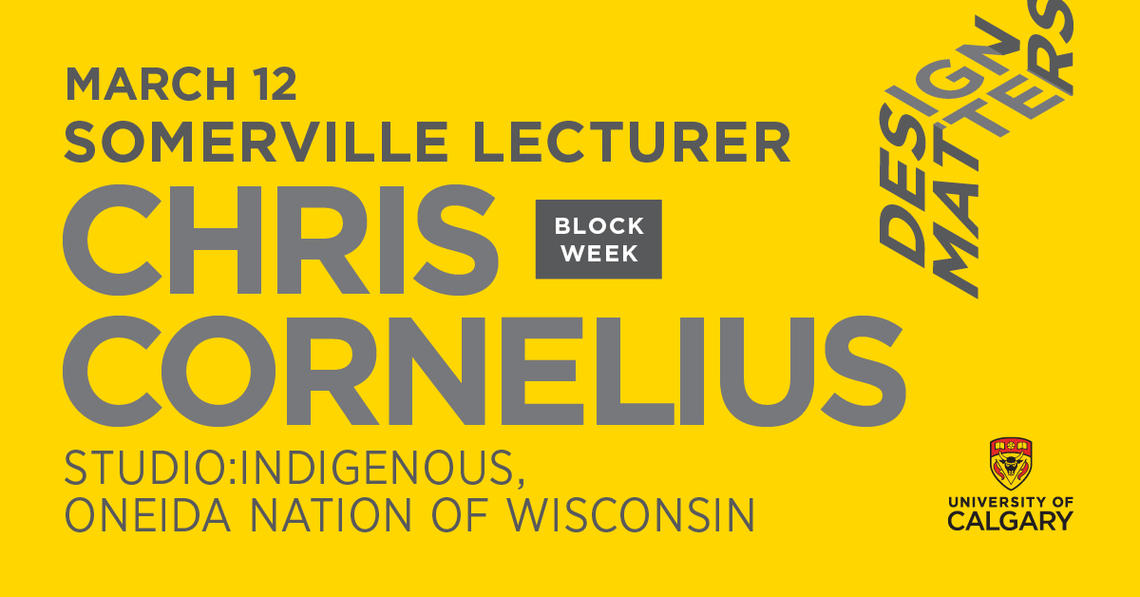 March 2020 
Associate Professor in the School of Architecture & Urban Planning, University of Wisconsin-Milwaukee, Cornelius is a citizen of the Oneida Nation of Wisconsin, focuses his research and practice on the architectural translation of culture; in particular, American Indian culture. He is the founding principal of studio:indigenous, a design and consulting practice serving American Indian clients.
The Somerville Visiting Lectureship was established by an endowment given to the University of Calgary by Mrs. A.G. Burton (Mary) in memory of her father William Lyon Somerville, distinguished Canadian architect and co-founder of Somerville, McMurrich and Oxley. This lectureship brings a visiting practitioner, academic or critic to SAPL's architecture program every year, and a public lecture for the University and the community it serves, in the subject of architecture.
April 2020 
Work & Play. In over 40 years of practice, relentlessly engaging the cultural and physical environment with design, Patkau Architects' studio has developed two somewhat divergent modus operandi. The first includes planning and building projects, commissioned by clients. The second consists in research projects that are largely self-initiated. Work & Play reflects on the dual nature of these streams of engagement in terms intention and circumstance, but also to reflect the ambiguous distinction between Work and Play when both are driven by curiosity, discipline and passion.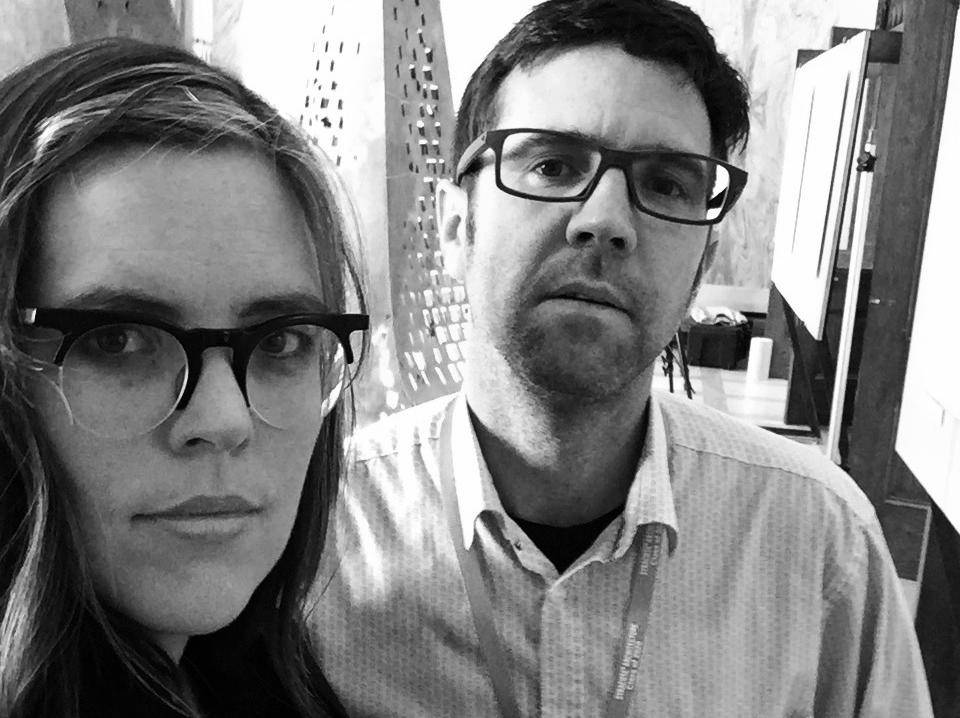 Julie Larsen of APTUM and Syracuse University provided a lecture titled "Counterfactual Materiality: Using Computation, Fabrication, and Environment to Design Beyond Existing Materials". Read about the lecture in "Can a city afford bad architecture?".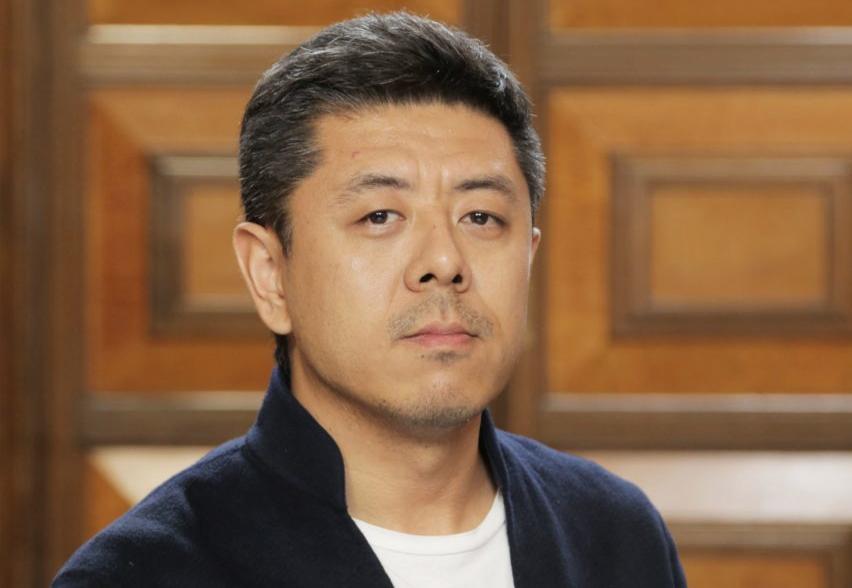 How can high-density development keep people connected to nature and social life? Ma Yansong, founder and principal of Beijing's MAD Architects, is bringing nature and architecture together at an unprecedented scale. Read about Ma Yansong's lecture on April 30, 2015.
Design Matters is made possible through the partnership with generous sponsors who have shared aspirations. Sponsorship presents a wonderful opportunity for companies to not only heighten community profile, but also to engage with talented students who will be leaders and practitioners.
Looking forward to learning with you!