The Master of Architecture program at the University of Calgary addresses the themes and issues facing architecture today with a curriculum focused on innovation, responsiveness, and critical thinking. 
This program is the foundation for becoming a licensed architect in jurisdictions across Canada, the United States, and the European Union.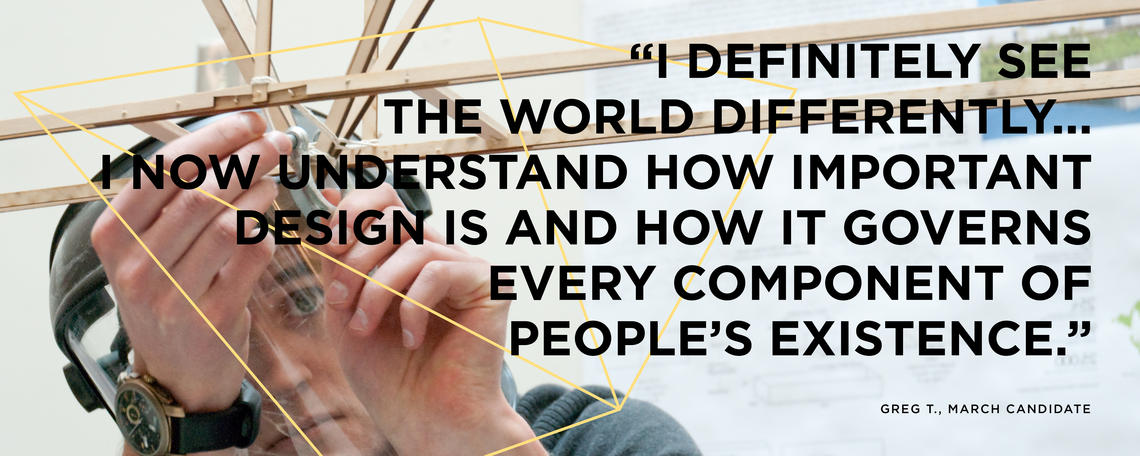 Students learn how to navigate contexts and built scales, think from multiple perspectives and develop innovative solutions to the world's design challenges. Changes in climate, the demographics of urban and rural communities, mass migration, material availability, and the formal and responsive possibilities of architecture are addressed through core courses, work-integrated learning studios, study abroad opportunities, focused research block weeks and elective courses. The education includes opportunities for applied research and the engagement of cutting-edge digital tools; many of these experiences are provided and supported by design research labs that focus on energy conservation, lifecycle analysis, artificial intelligence, robotics, digital fabrication, and innovation in structural design.
 
The MArch curriculum prepares students for rewarding, fulfilling careers as designers and fulfills the educational requirements for licensure as an architect. SAPL is Alberta's only accredited school of architecture. The MArch program is accredited by the Canadian Architectural Certification Board (CACB). Canadian degrees from accredited programs are fully recognized in the United States and in the European Union under reciprocity agreements.  
Two programs are offered: 
Three-Year Program: Open to applicants from any undergraduate discipline. The program begins with a Foundation Year to provide students with knowledge and skill they will need to continue with the MArch professional degree. 
Two-Year Program: Open to applicants with a Bachelor of Design in City Innovation (Architecture Concentration) or Minor in Architectural Studies from the University of Calgary, or an undergraduate degree accredited by the CACB and NAAB. 
Students are expected to work as individuals and in teams to develop a critical and productive body of work demonstrating their commitment to design as an act of research and creativity. The program cultivates critical, persistent thinkers through a curriculum that moves between the historical and theoretical underpinnings of the discipline and the hands-on making and production opportunities of the practice of architecture. 
All applicants admitted to the MArch program start in the fall term. 
A career in architecture is a diverse one. While architecture primarily involves designing buildings, architects can apply their abilities to a range of fields like furniture design, city design, property development, social change, visual artistry, technical research, and many others. Which path will your architectural future take you? 
Laboratory of Integrative Design
Class of 2019: World travel informs Master of Architecture grad's global perspective
Whenever she can, Ashley Ortlieb will continue to broaden her perspectives and enrich her craft through travel
Message from the Associate Dean (Architecture)
The Master of Architecture program was established in 1971 and has evolved to develop a distinctive approach to architectural education, research and practice. Our approach engages the contemporary challenges facing the discipline of architecture through our commitment to, and expertise in, critical practice, digital design and fabrication, building performance and responsiveness, and cultural theory. Situated within the School of Architecture, Planning and Landscape, the MArch program takes a active approach to both design and sustainability – understanding and producing the built environment in relation to ecological concerns, economic challenges and social needs. We expect our students to rigorously explore the discipline of architecture through established and emerging tools, theoretical platforms and making. The program has been developed to challenge assumptions about the limitations design to impact change and the ways in which we pursue design research. Our graduates are sought after for their agility within digital design and fabrication contexts and their critical thinking skills. Our student body is diverse and multinational an our many distinguished alumni are applying what they have learned here in practices around the world.
Driven by an energetic and dedicated group of faculty members, and supplemented by a very generous scholarship program for its students, the Master of Architecture Program is well poised to assume an ever more significant role in the coming decade. During the last several years faculty, students, and alumni have received widespread recognition for their achievements. 
An education in architecture can lead to many career opportunities. Please check out the following web pages, and contact us if you would like more information on the programs we offer.
Learn more
Receive information about program(s) of interest, portfolio and application requirements, financial aid, important dates and deadlines, and upcoming webinars and events.
Thank you for your submission.
Collection of personal information
Your personal information is collected under the authority of section 33(c) of the Freedom of Information and Protection of Privacy Act, and is required for updating your email subscription preferences. If you have any questions about the collection or use of this information, please visit our Access to Information page.