Block Week Program
Our program of one-week intensive electives courses allows you to tailor your education to your interests.  
Block week courses allow students to work with prominent practitioners and educators, architects, planners and landscape architects, from around the world in an intensive study. These block courses are a vital and essential aspect of the professional graduate programs. The one-week block course was pioneered by our faculty several decades ago, and they continue to provide a special opportunity for intensive courses (typically electives).
Global leaders in design supplement the learning experience through one-day, one-week and semester-long terms. Students have had the opportunity to work directly with guests such as Marc Fornes (THEVERYMANY), Koen van Velsen, Chris Sharples (SHoP Architects) and Dr. Jane Rendall from the Barlett School of Architecture.
During the Block Week courses, SAPL students had an opportunity to participate in a wide variety of intensive workshops related to their fields of study and interests. ZHCode's Shajay Bhooshan led a course on 'Computational Geometry', Mathis Natvik led a course on Ecological Restoration Plans, James Furlong worked with students on 'Exploring Deep Green Retrofits' along with courses about 'Music, Space and Place', 'Principles of Historic Conservation' and Municipal Planning Law.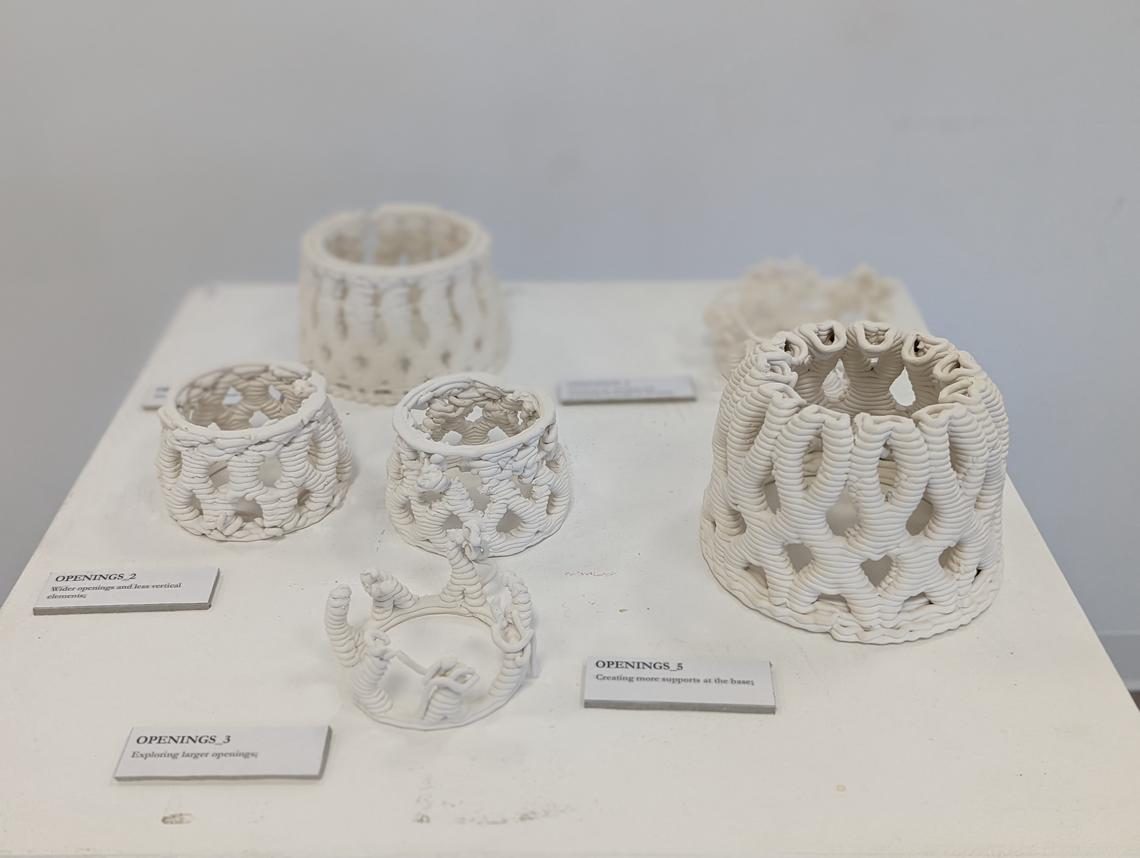 Printing Paste
Instructor: Lili Yas Tayefi
Lili Yas Tayefi (BFA'13) graduated from UCalgary with a BFA in Visual Studies and a minor in Architectural Studies.
Following her studies, Tayefi built an extruder for 3D printing with ceramics and never looked back. Her professional focus is on making, researching and educating.
Tayefi's course 'Printing Paste' guided students in 3D printing plastic with additive layering to allow a stack. She encouraged students to think about their outcomes as "Failing Forward." With each prototype iteration, students learned from the 'mistakes' exactly where the stress points were and how they could improve the design. The design geometry is a result of what students can or can't print.
"The point of the workshop is allowing the physical reality to influence the digital reality, and vice versa," Tayefi explains.
Multigenerational Housing
Instructor: Ouri Scott
Ouri Scott (BA'02), British Columbia's first female Indigenous architect, taught SAPL students how to create Multigenerational Housing design briefs using Indigenous Design and Community Engagement principles.
What are some of the Indigenous principles of community engagement?
"Listening, asking questions, being flexible – not having preconceived ideas," Scott explains. "Indigenous design is architecture with a little a. The architect has to remove their ego from it."
For architects, the shift from creator to collaborator can be challenging but, Scott insists, it's necessary when the objective is community engagement.
"If [the design] is not something the client wants or needs, it is not something they will celebrate or take care of."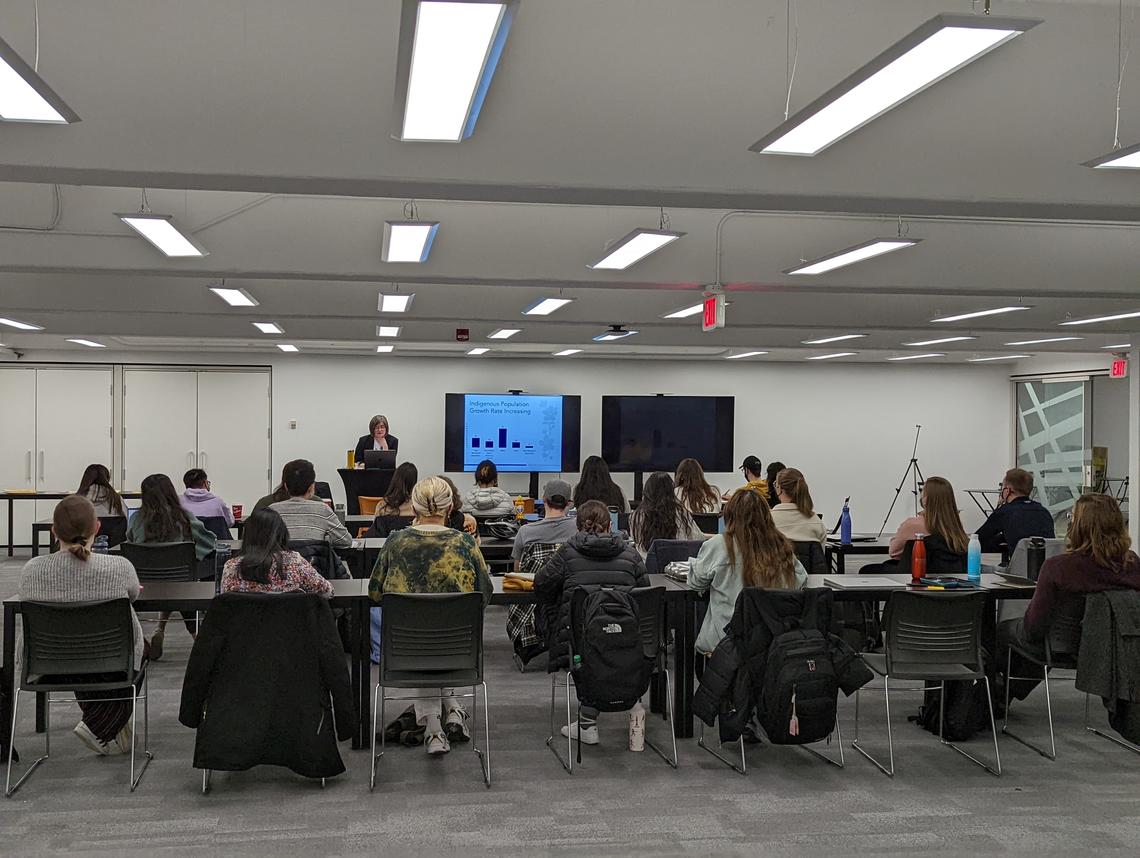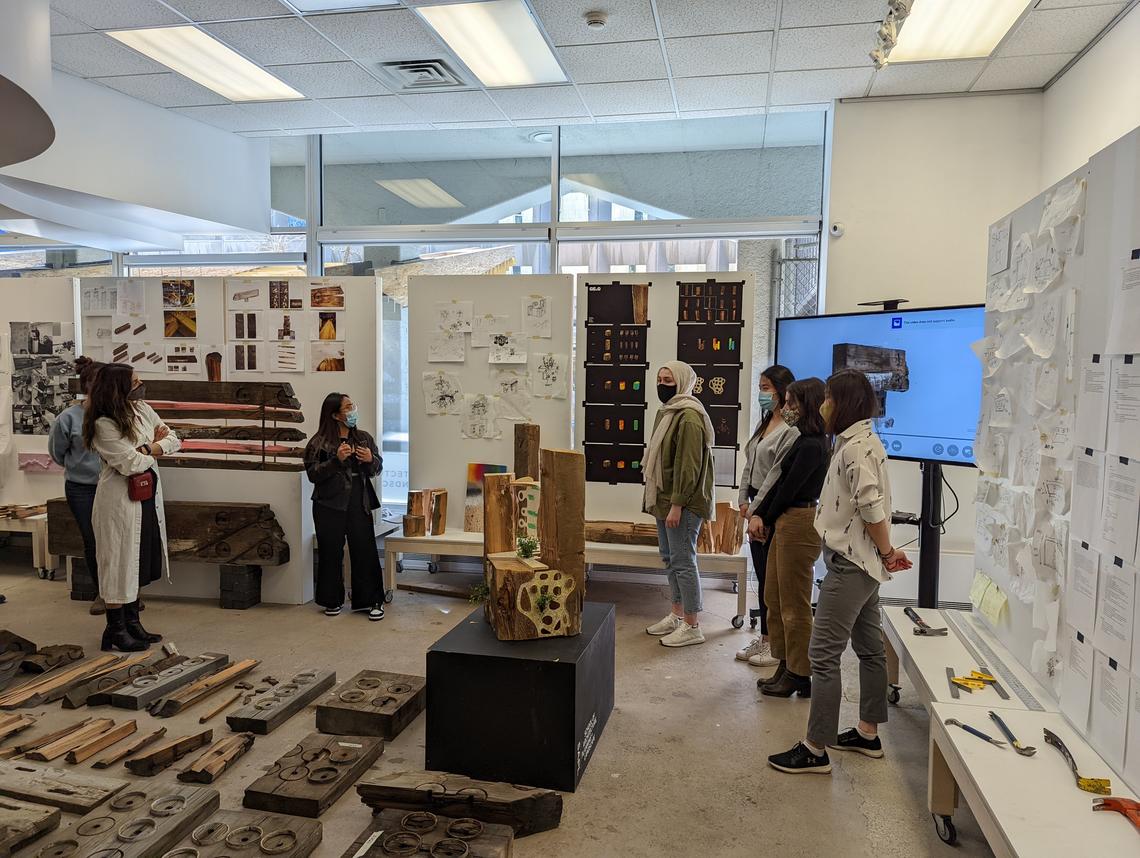 Working with What's Around
Instructor: Zachary Mollica
Students worked in six groups to develop and produce furniture scale artefacts informed by ingrained material characteristics. 
Through observation (written notes) students became familiar with their pieces of wood. They unlocked further ways to analyze their pieces through 3D scanning (photogrammetry). This resulted in accurate digital models used to describe, design and fabricate form.
Once scanning was complete, students developed designs for artefacts in response to the wood's grain and connections. 
Past Block Week Offerings
'Softbuilt Structures' Block Week with Dr. Felecia Davis, March 2021
SAPL Block Week March 2021 with Dr. Felecia Davis, Penn State University featuring students Maria Grygoryeva Candice Cheah Rebecca EJ Choi Anna Guan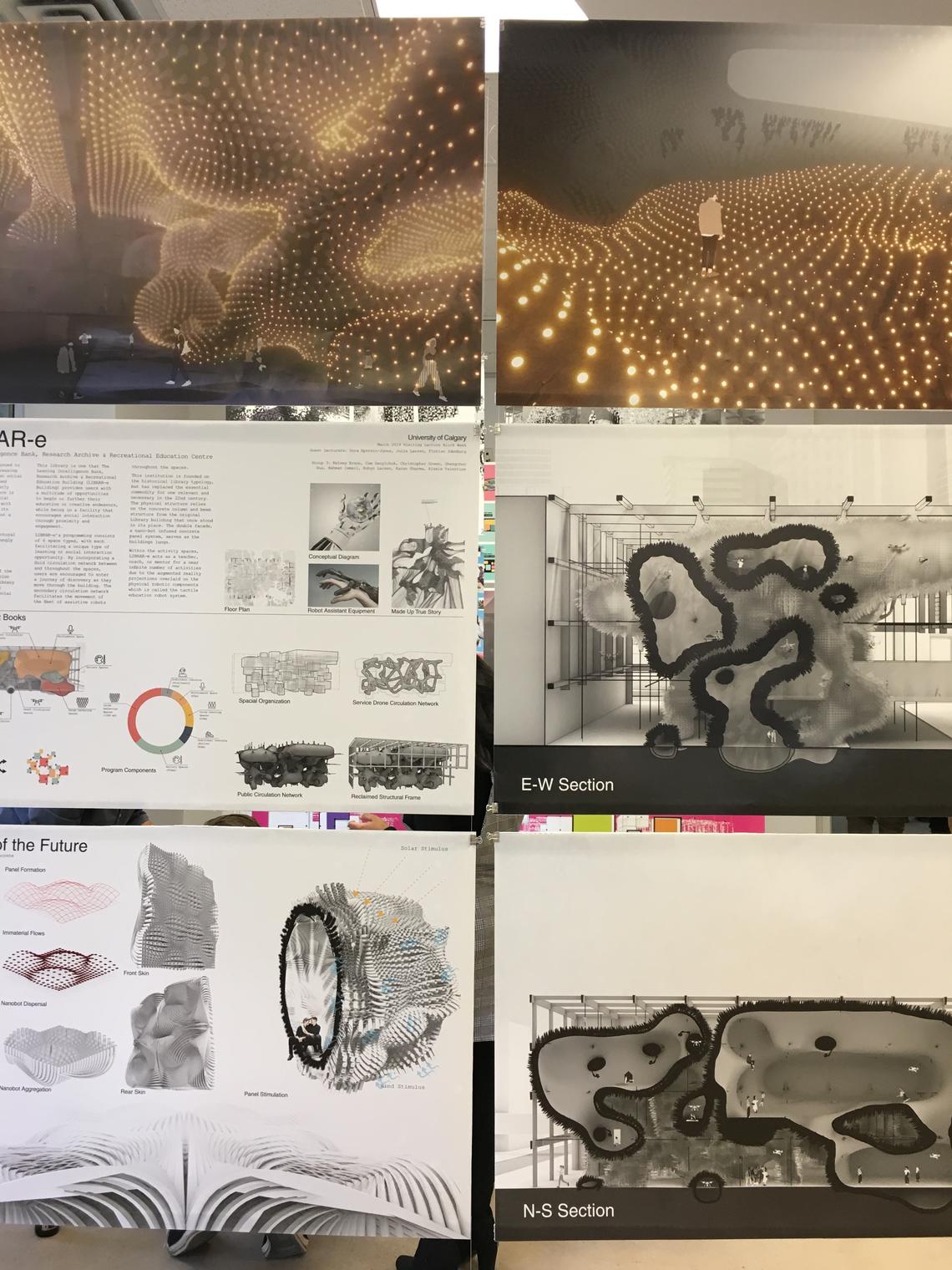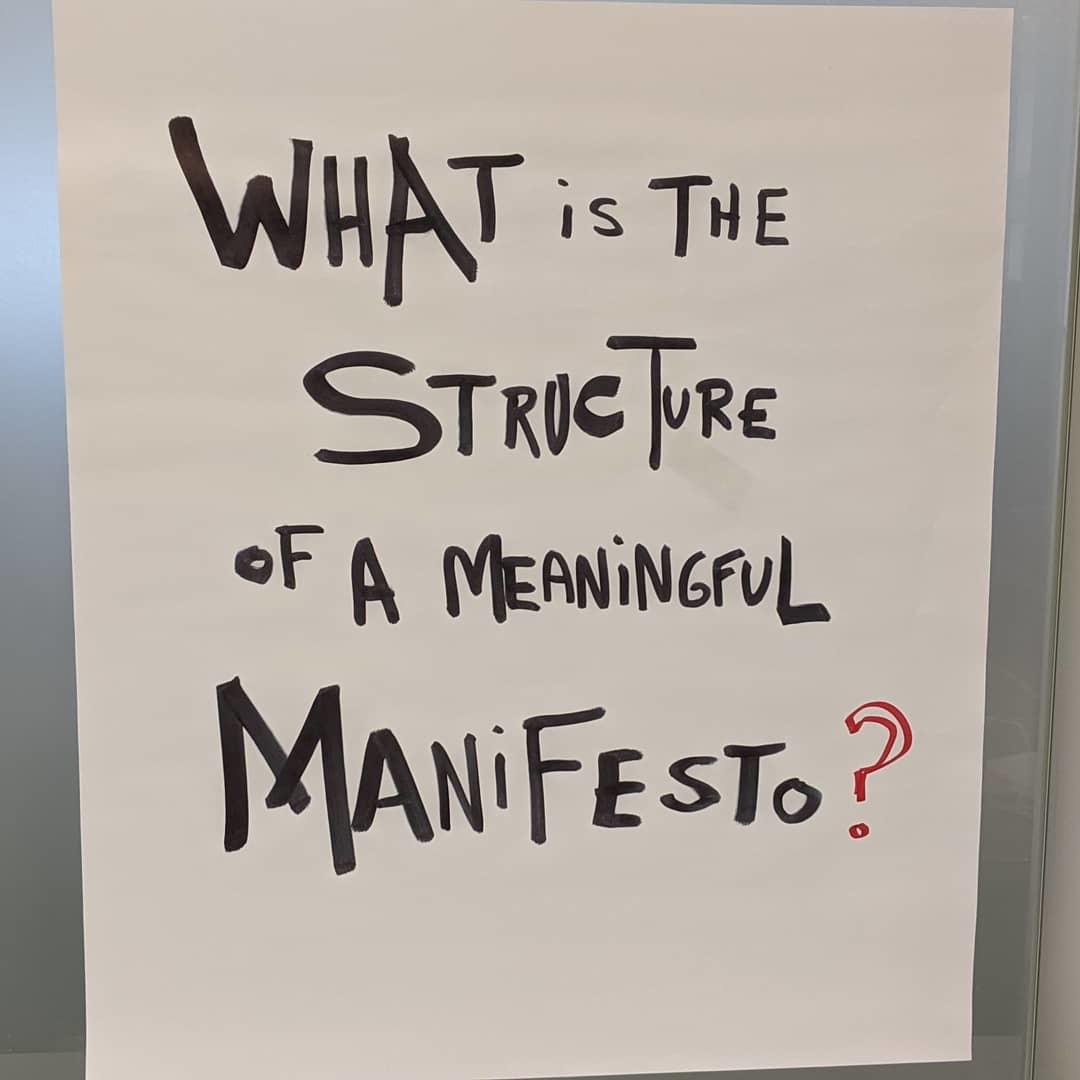 Arch Agency Block Week - Group Film - March 2020
Devised in conjunction with the Canadian Architecture Forums on Education, and the CAFÉ forum held at the City Building Design Lab on March 12, 2020, the Arch Agency block week course at the University of Calgary speculated on the future of architecture and architectural agency through experimental play, social innovation, ethnographic adventure, videography, mise-en-scène, performance and storytelling.
This video installation takes inspiration from the 2015 Manifesto project by artist Julian Rosefeldt. Thank you to guest lecturers Kris Kelly-Frere and Lisa Landrum for leading students through the creation of adapted, exemplary manifestos of the last century, that influence public perception of architectural potential.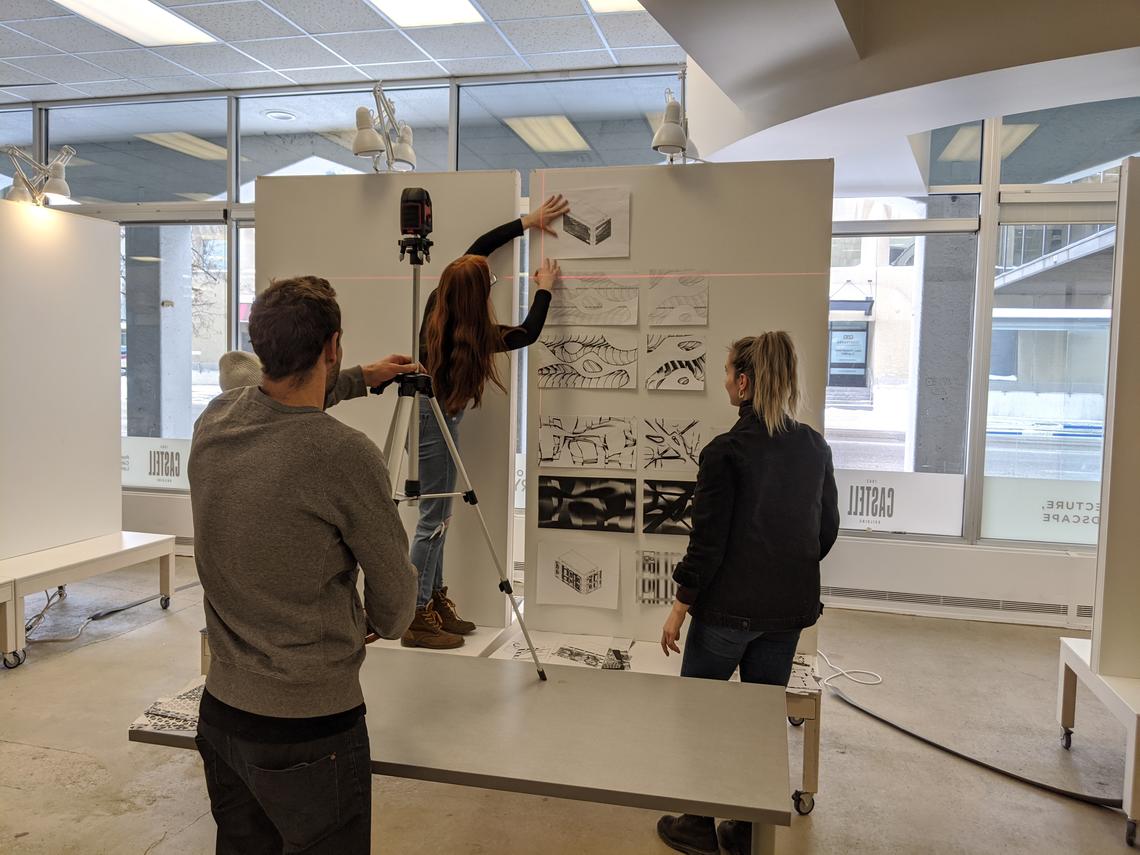 Three enrichment lectureships are designed for students in the Master of Architecture program. They are offered every year during the March block week. Architecture students must complete at least one lectureship as part of their degree requirements.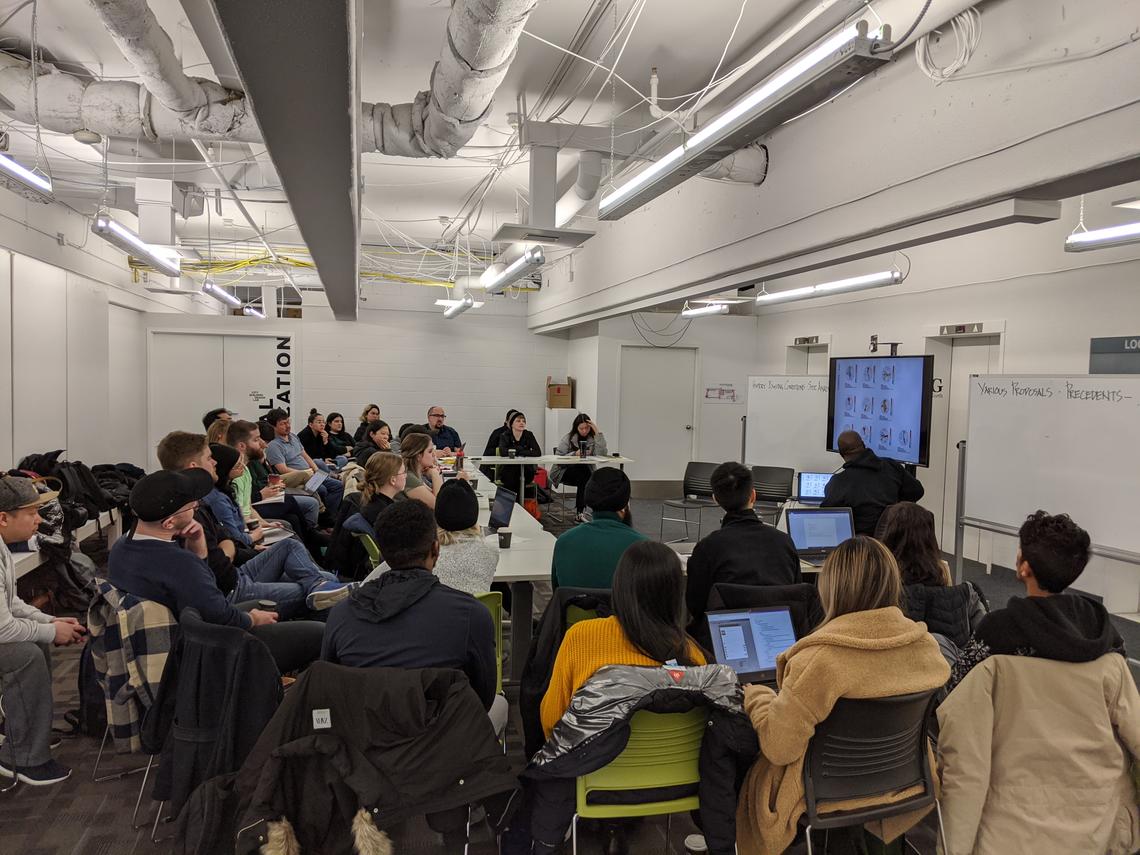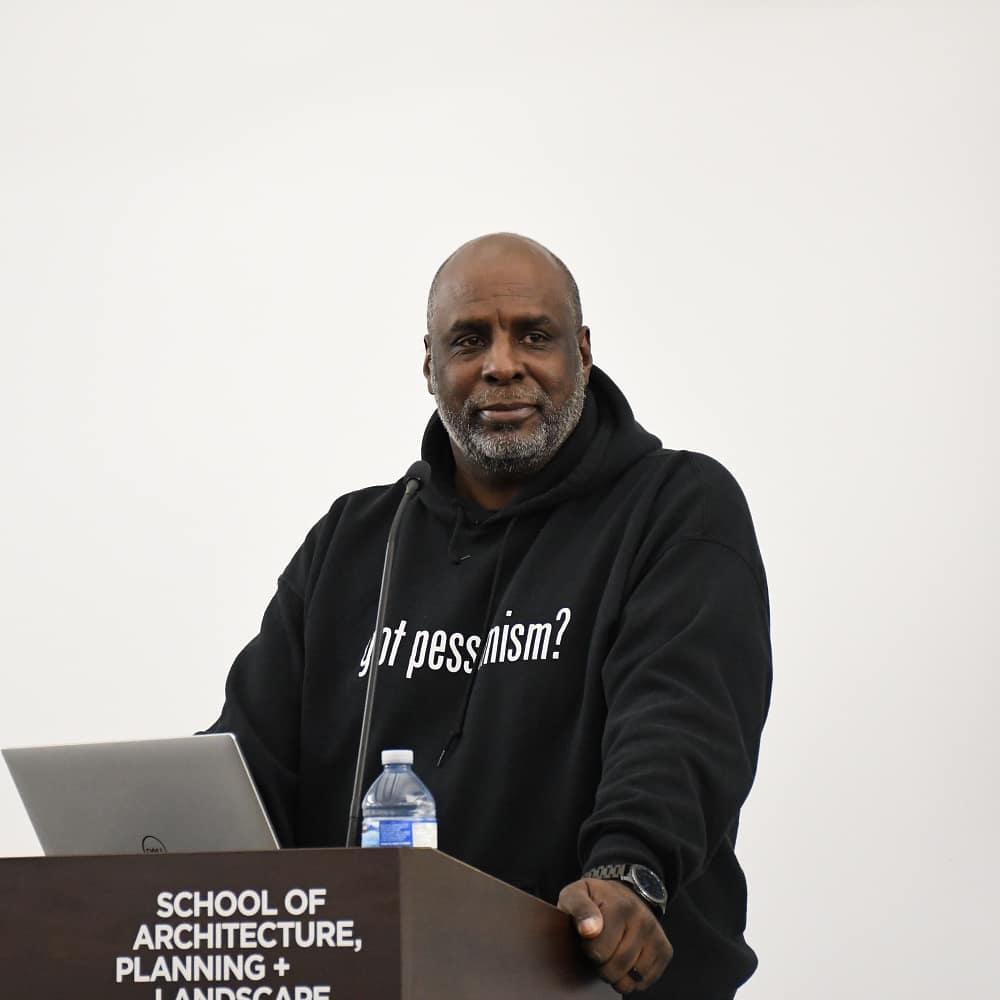 Gillmor Visiting Lectureship
The Douglas Gillmor Visiting Lectureship invites a prominent historian or theoretician to give a series of advanced seminars in architectural history and/or theory. It was established to recognize the contributions of Emeritus Professor Douglas Gillmor, the founding Director of the Architecture Program. The recipient of the lectureship also delivers a public lecture.
This course is only available to students in the Architecture Program, and by special permission of the course manager. The course may be repeated for elective credit. 
Previous Gillmor Lecturers:
2020     Olon Dotson
2019     Dora-Epstein Jones    
2017     Clare Lyster, Chicago
2016     Liam Young, Tomorrow's Thoughts Today 
2015     Dr. David Gissen, California College of the Arts 
2014     Dr. Mary McLeod, Columbia University 
2013     Dr. Vittoria De Palma, University of Southern California 
2012     Dr. Shelley Hornstein, York University 
2011     Dr. Jane Rendell, Bartlett School of Architecture, University College London 
2010     Dr. Angela Piccini, Bristol University 
2009     Dr. Adrian Parr, University of Cincinnati 
2008     Dr. Karen Till, Virginia Tech 
2007     Dr. Setha Low, CUNY Graduate School
Read about how Vittoria De Palma, visiting lecturer, explored history and rehabilitation of wasteland during this block week.
Somerville Visiting Leadership
The William Lyon Somerville Visiting Lectureship, established in 1992, invites a prominent architect, academic, or critic to direct a design charrette with a group of students. It was established by an endowment given to the University of Calgary by the late Mrs. A.G. Burton of Calgary in memory of her father. William Lyon Somerville, ARCA, FRAIC, FRIBA, was a distinguished Toronto architect. He had a long, energetic, and successful career based in Toronto, practicing for a substantial period under the well-known firm name Somerville, McMurrich and Oxley.
The gift was matched by the University to create a fund for the maintenance of an annual visiting distinguished lectureship program in architecture, within the School of Architecture, Planning and Landscape. The recipient of the lectureship also delivers a public lecture.
Previous recipients:
2020     Chris Cornelius
2019     Florian Idenburg
2018     Grace La, Boston
2017     Mauricio Pezo & Sofia von Ellrichshausen, Chile
2016     Chris Sharples, New York City
2015     Rick Joy, Tuscon
2014     Scott Marble, New York City
2013     Brigette Shim, Toronto 
2012     Michael Weinstock, London, UK 
2011     Adam Caruso, London, UK 
2010     Mark Smout, London, UK 
2009     Hrvoje Njiric, Zagreb, Croatia 
2008     Koen van Velsen, Hilversum, Netherlands
Read about how the intellectual and creative approach to architecture used in the 2017 Somerville Block Course produced unexpected results.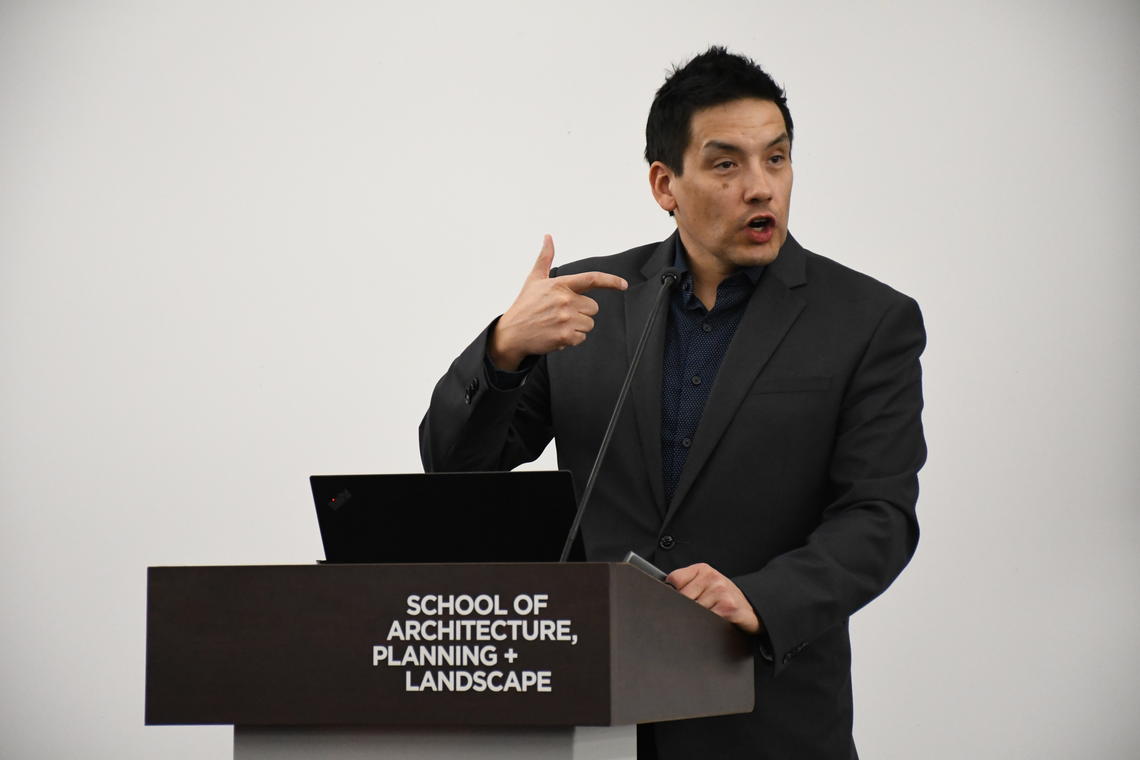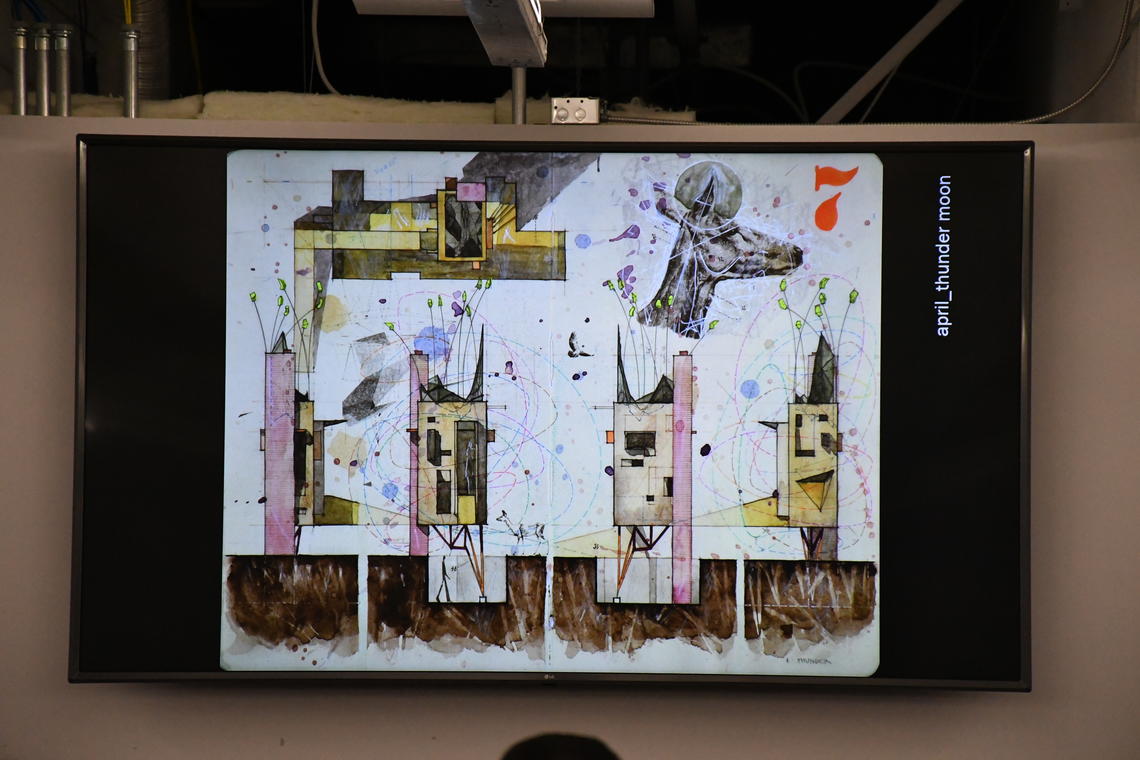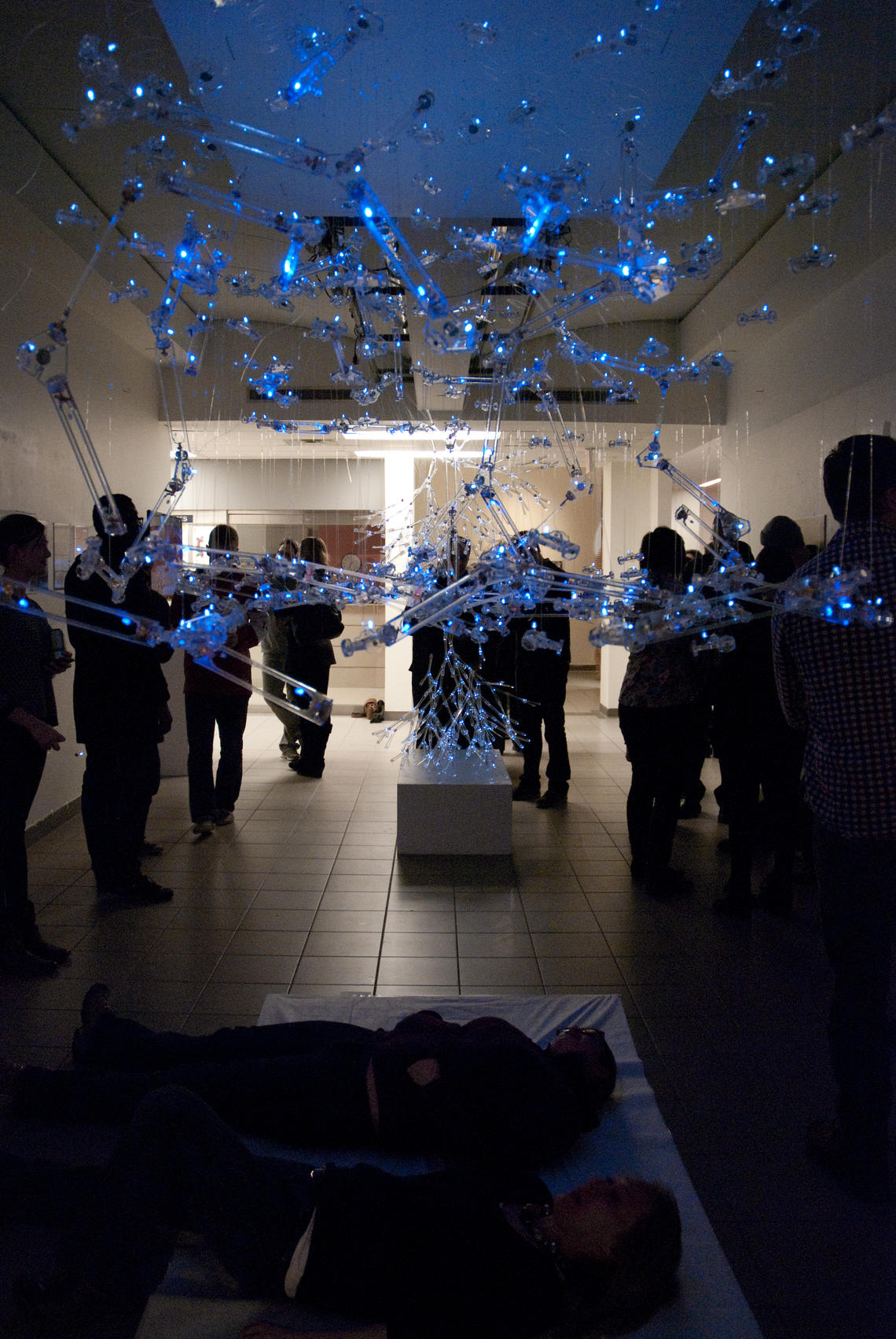 Taylor Visiting Lectureship
The more-recently established Dale Taylor Visiting Lectureship is an intensive one-week design workshop that focuses on digital fabrication, technology, or building science. It is named to honour Dale Taylor, FRAIC, a past Director of the Master of Architecture degree program, and Professor Emeritus. The Taylor Lectureship celebrated its 10th anniversary in 2018 with the TaylorX Symposium. Read about the 2014 lectureship with Joshua Vermillion: "Fabrication and simulation expert on campus for student design workshop and public lecture".
Previous recipients include:
2020     Felecia Davis
2019     Julie Larsen 
2018     Dana Cupkova, Pittsburgh
2017     Tom Verebes, Hong Kong
2016     Ellie Abrons and Adam Fure, Michigan
2015     Mariana Ibañez & Simon Kim, Cambridge 
2014     Joshua Vermillion, University of Nevada, Las Vegas 
2013     Alvin Huang, Los Angeles 
2012     Nick Puckett, Kentucky 
2011     Drura Parrish, Kentucky 
2010     Andrew Kudless, San Francisco 
2009     Marc Fornes, New York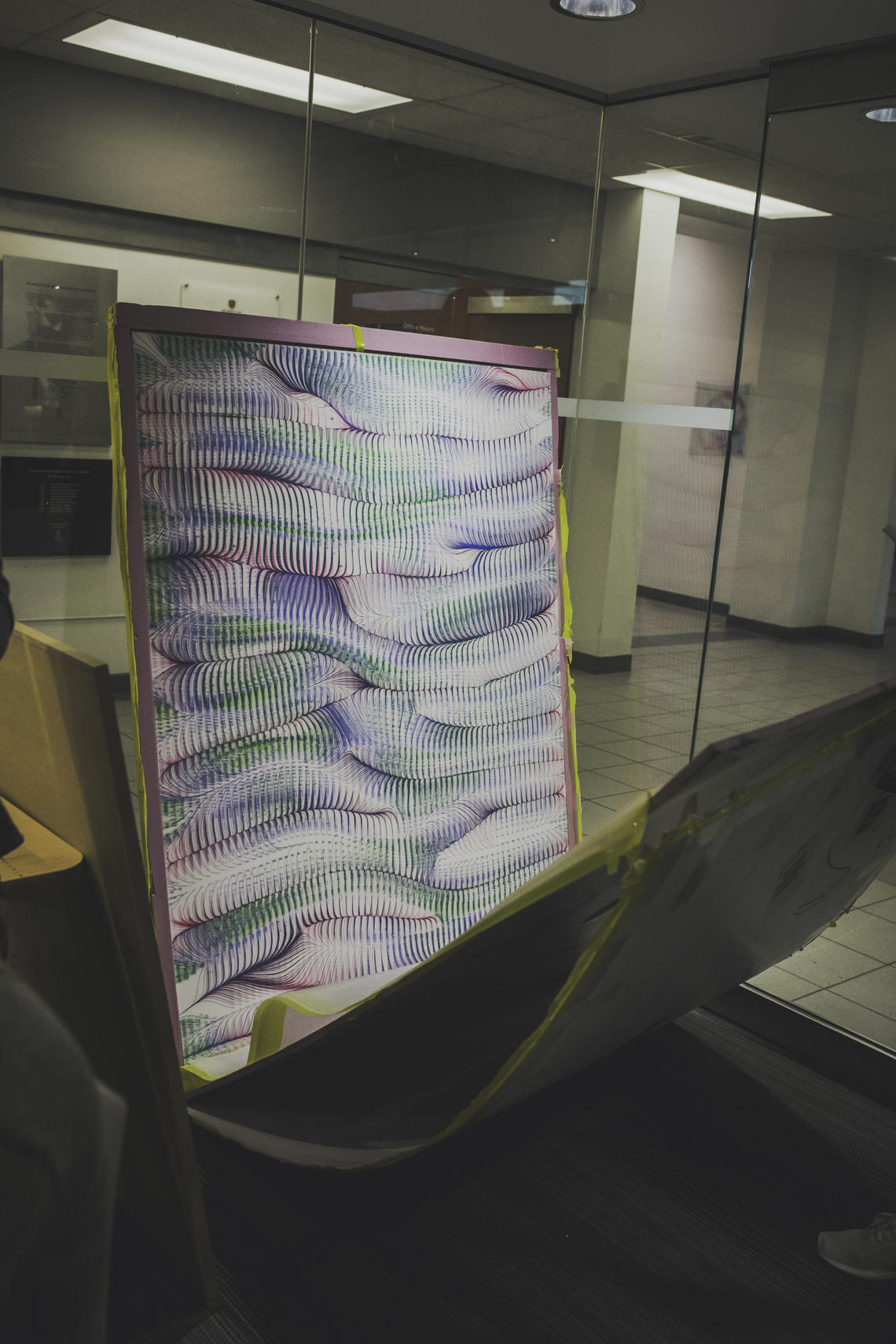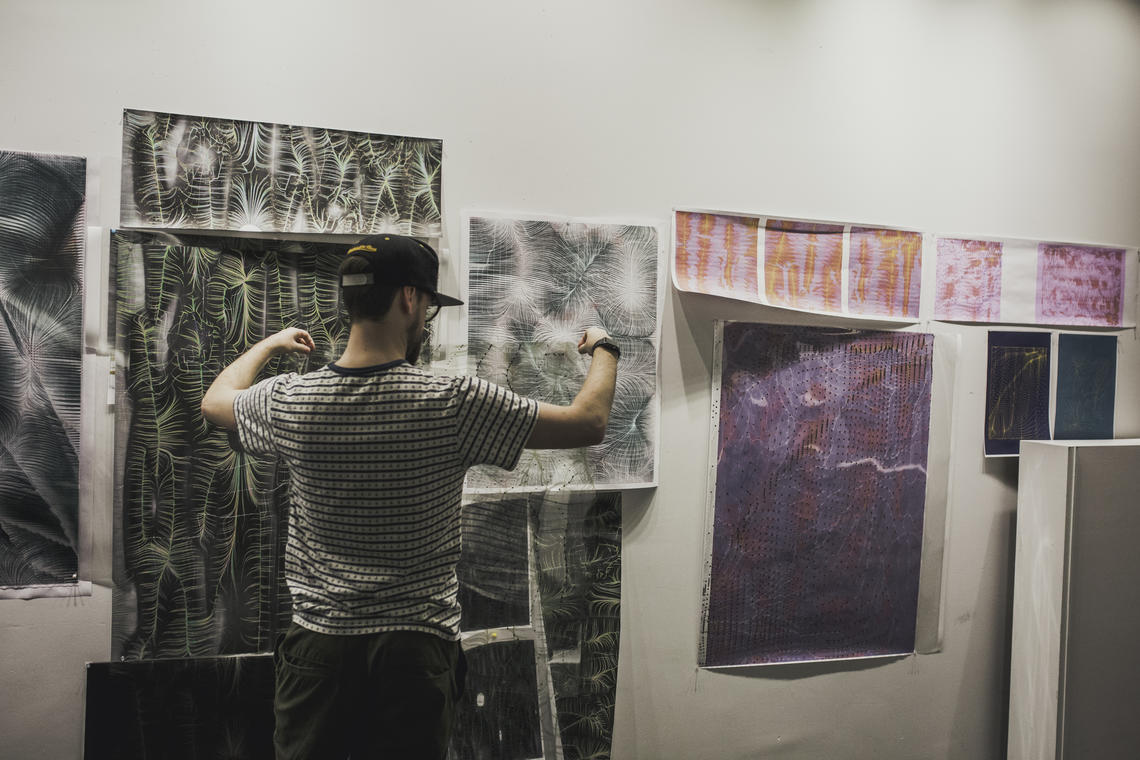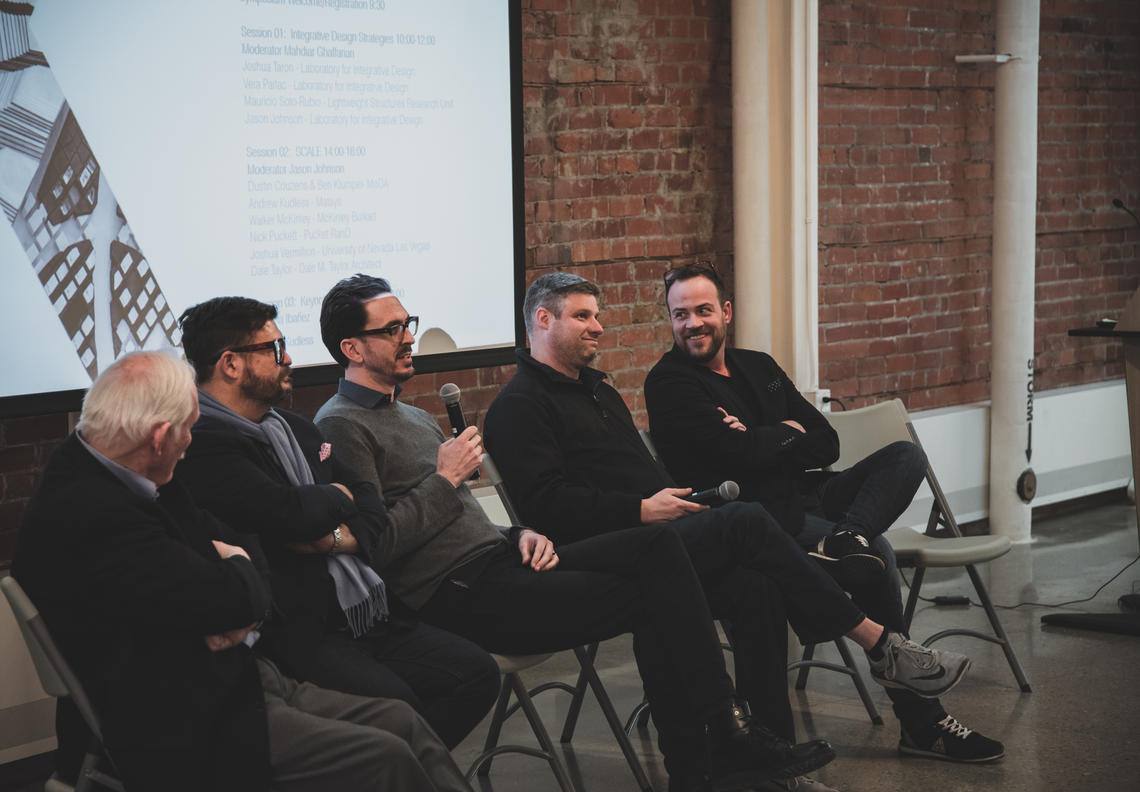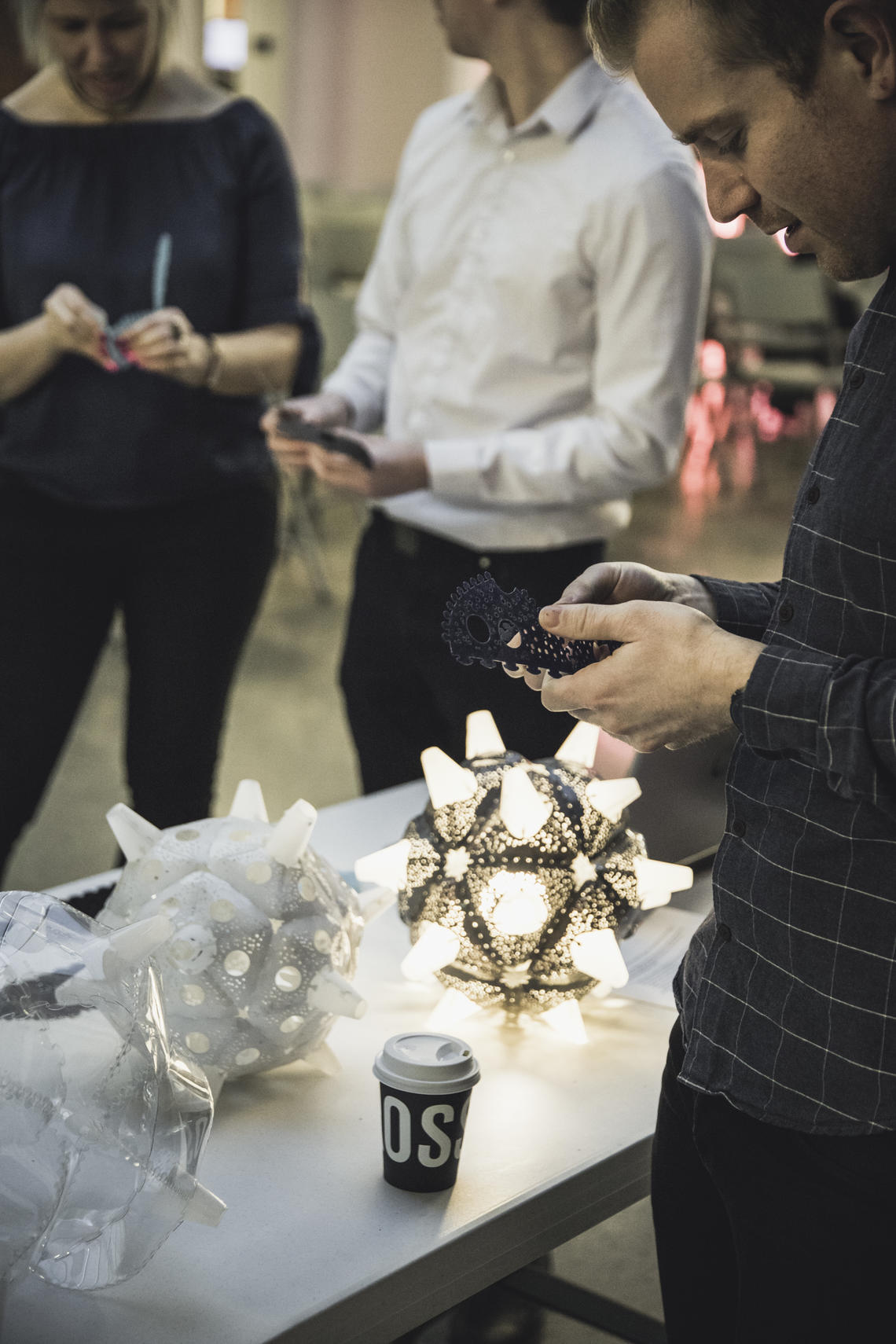 Learn more about why our programs stand out.