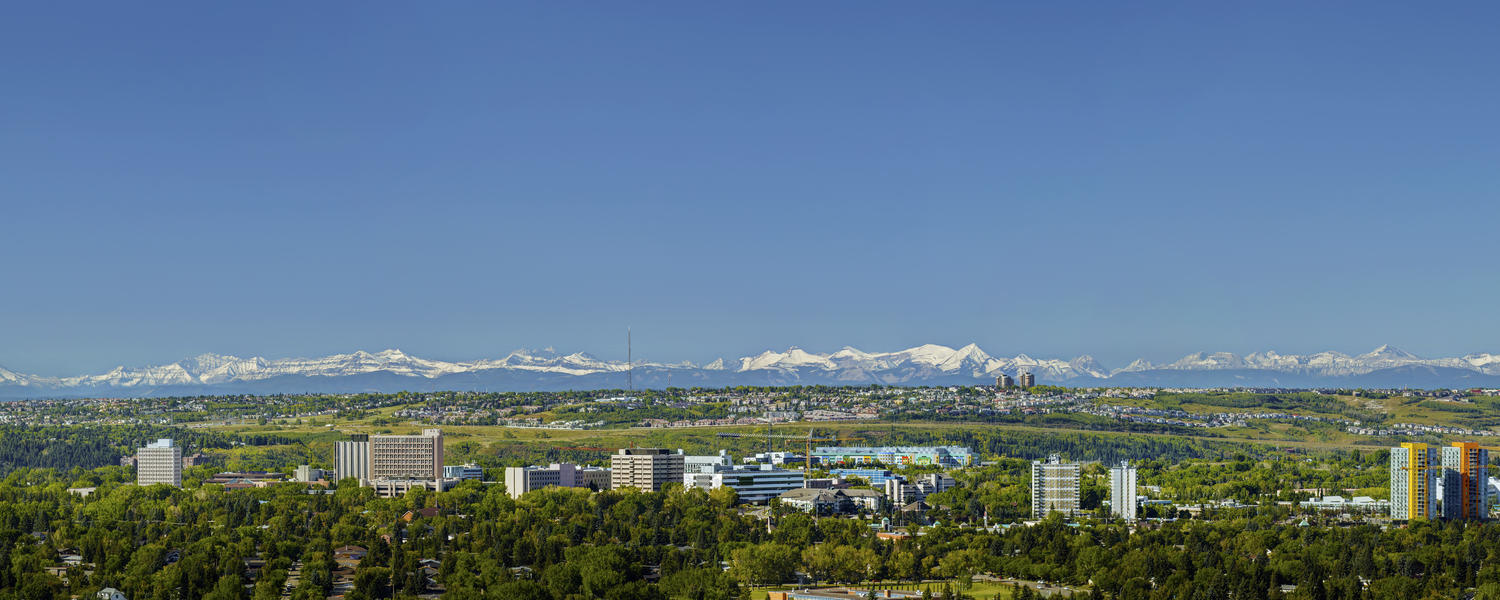 Entrepreneurial Design Thinking
We are located in Canada's most enterprising city and educate our students to use the power of entrepreneurial thinking to develop disruptive design strategies and social innovations that will make our cities more resilient, equitable, vibrant, and healthy. 
Welcome to an emerging architourist hotspot.
Calgary is a city of big skies and big ideas.Anything is possible and everything is on the horizon, including the breathtaking Rocky Mountains. 
Situated in the heart of Alberta, where the Bow and Elbow rivers meet, Calgary has been rapidly growing over the last 10 years and is attracting international attention as a new urban hotspot. The city is connected by 800 kilometres of cycling paths winding through a network of natural parks, public art and riverside neighbourhoods such as Currie Barracks and East Village. Projects like Studio Bell, the Bow Tower and the Peace Bridge in Calgary's downtown have become hotpots for architourists, fashionistas and Instagrammers alike. Calgary is buzzing with energy — new projects such as the new central library and Telus Sky continue to engage citizens and evolve the city's design culture. In the coming years, projects like the Greenline LRT, Stampede Park and Victoria Park Rivers District, and transformation of the main streets and corridors will realize the City's vision of becoming a truly sustainable city. 
Calgary is the 5th most liveable city in the world.
Ranked the 5th most liveable city in the world, Calgary is home to the University of Calgary, world-class attractions, sporting amenities and public infrastructure that supports a healthy lifestyle, making it a great place to raise a family. Calgary is a city of leaders - in business, community, philanthropy and volunteerism.
Ranked 2nd in Canada's Best Places to do Business, Calgary has the highest concentration of entrepreneurs and Canadian head offices of any city in Canada and the energy in the business community is collaborative, entrepreneurial and innovative. Ideally located with connections to cities throughout the United States, Europe and Asia, Calgary offers the ideal opportunity for companies looking to build a great team in Calgary.
Calgarians benefit from a growing number of world-class dining and cultural events and enjoy more days of sunshine per year than any other major Canadian city. Calgary sits in the sunny eastern foothills of Canada's Rocky Mountains in the heart of Alberta, where the Bow and Elbow rivers meet. It is the major urban centre for the southern half of the province of Alberta, and is surrounded by an area of profound beauty with an unspoiled, resource-rich natural environment. Calgary is less than an hour drive from the majestic Rocky Mountains and boasts the most extensive urban pathway and bikeway network in North America.