Our primary facility is in the Professional Faculties Building, located at the southwest corner of campus. Purpose built in the 1990s, the building provides over 75,000 square feet of space devoted to student studio workspaces, classrooms, fabrication workshops, research labs, offices, and meeting spaces. The Stantec Gallery is also located on-campus adjacent to our main entry doors.
The studio experience is a distinct and essential part of design education. Close to 20,000-square-feet of design studios are open 24/7 and provides dedicated workspaces with secure storage for our 300 graduate students. The undergraduate design studio provides daytime workspace for up to 60 students.
Our on-campus facility also has over 13,000 square feet devoted to robotics fabrication workshops, digital simulation labs, and traditional making spaces.  Students use these facilities for model fabrication in their design studio courses as well exploring design build projects and faculty-based fabrication-based research, all of which are core to our educational programs. A team of technicians provide student support in the workshops as well as essential safety training.

The Computer Applications Laboratory provides access to advanced software such as Geographic Information Systems (GIS), Building Information Modelling (BIM), multimedia and interface design, and environmental systems simulations as well as high-end equipment such as a high-resolution 11x17 scanner, large-format plotters, and a high-speed render farm. Students also have access to resources across campus, most notably the Canadian Architectural Archives, Taylor Digital Library and Hunter Hub for Entrepreneurial Thinking.
Our on-campus student spaces are rounded out with a landscape architecture materials library, a fully equipped photo lab, and a student lounge with kitchen and piano. 
In 2018, the School partnered with the Calgary Municipal Land Corporation to activate the Castell Building, the former central library located in Calgary's city centre, adjacent to City Hall. In February 2019, the School moved into this 24,000 sf space and launched the City Building Design Lab (CBDLab).
CBDLab is an advanced design-based research initiative that bring together graduate students, academics, building industry professionals, municipal policy makers, and the public to explore new directions in city-building. CBDLab helps train the next generation workforce of graduate students and early career professionals in the cutting-edge of city building design, construction, and policy making. It provides continuing education opportunities for established practitioners across the AEC (architecture, engineering and construction) industry, enabling them to increase their competitiveness in the global market. Through an active public outreach program, it elevates public discourse on the future of Calgary and how we can collectively work to achieve a city that is more resilient, sustainable, equitable, and vibrant.
As a teaching resource, CBDLab provides an opportunity for senior students in our three professional programs to study and conduct design projects in downtown Calgary. This is an unprecedented way to experience city building first-hand, interact with city officials and local practitioners, and better under some of the challenges facing our downtown core. 
At a research level, CBDLab leverages its central downtown location and unique collaboration between academia, industry, and policy makers around a series of Grand Challenge Research Themes. Students in the graduate research degree programs have the opportunity to work on their projects at the CBDLab, alongside faculty members and other industry and university collaborators.
The City Building Gallery features exhibitions from our community partners and alumni — and delves into broad explorations and discussions about city building. Pop-up events and workshops complement the exhibitions. The Event Hall is a multipurpose open space that hosts over 100 city-building events each year, both large and small. These include block week courses, international symposia, and the School's Design Matters Lecture Series. The studio is an active generative workspace for researchers and their students and also houses senior design studio courses in the faculty's professional programs. The Fabrication Lab contains advanced digital equipment including two robotic arms and a large format (10-foot) 3D printer capable of printing recycled plastic, plaster, and concrete. The lower level of the CBDLab has a series of classrooms, meeting spaces, offices, and workrooms.
Both of our locations feature public galleries with independent mandates. 
The Stantec Gallery is the heart of our on-campus facility and is open to the university community and the public at large. It is our teaching gallery, offering faculty and students the opportunity to explore and display work from our studios as well as from practice. Emerging ideas on design across scales, materials and cultures contribute to an ongoing dialogue.
The City Building Gallery, located in our downtown space is open to the public seven days a week and explores city building themes, research and community initiatives. The City Building Gallery features exhibitions from our community partners, alumni, and experts around the world to delve into broad explorations and discussions about city building. Pop-up events and workshops complement the exhibitions. The City Building Gallery also hosts our annual alumni exhibition in the fall and the year-end student show (YES) in the spring.
Together, these galleries provide approximately 4000 square-feet of space for the design industry, students, faculty and public to gather, learn, and find inspiration. 
Visit Exhibitions to find out about current and upcoming exhibitions.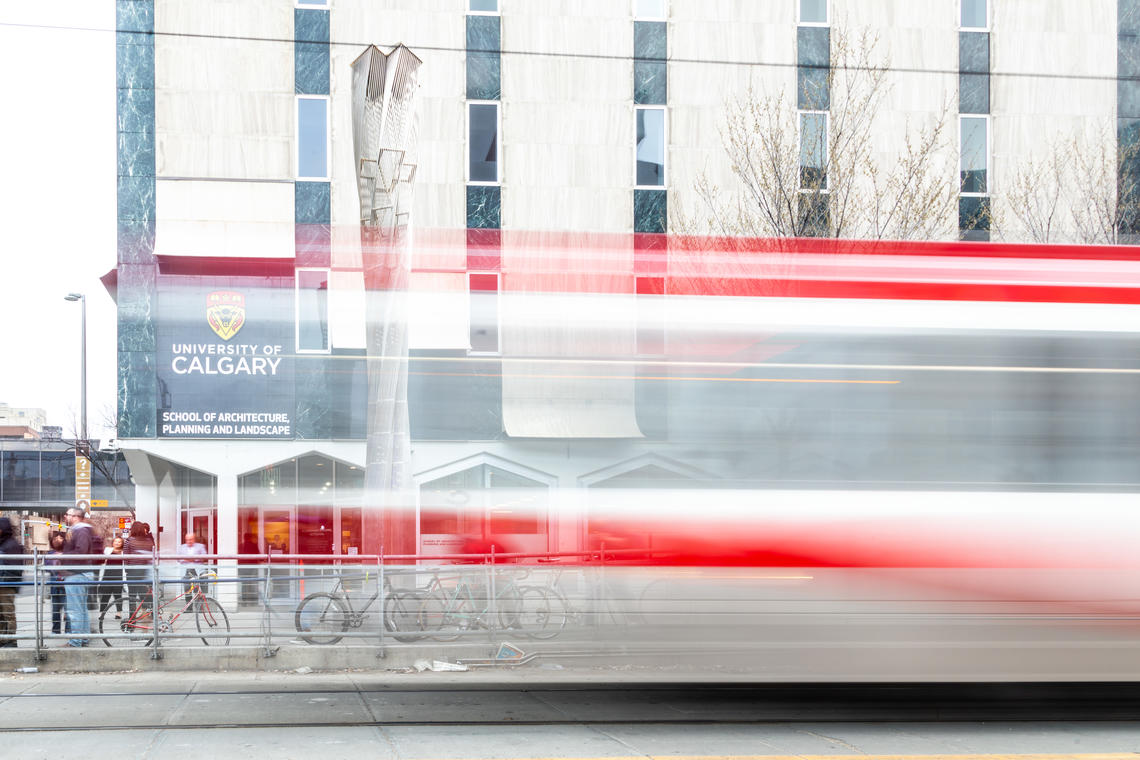 Our two locations support the activities of 300 students from undergraduate programs to practitioners returning for post-professional studies.
The School of Architecture, Planning and Landscape (SAPL) was in 1971 established as the Faculty of Environmental Design (EVDS) as Alberta's professional architecture program.
Whether it's an industry partnership, an international study-abroad program or cutting-edge fabrication tools, work alongside design and planning leaders to test new ideas, perspectives and build the knowledge network.