Do you want to design a better world – one that is healthier, more sustainable, vibrant and equitable? The School of Architecture, Planning and Landscape offers a range of studies that broaden how students think about the world around them – from objects and buildings to cities and regions. Study abroad, collaborative builds, and community-engaged projects bring students together. Discover how to change the world through challenge-based learning, collaborations with industry and prototyping solutions.
Undergraduate courses and the architectural minor offer hands-on experiences, the graduate professional programs provide the accredited education required to become licensed architects, urban planners and landscape architects, and the research degrees seek to further innovation in the built environment.
Hear from students, professors and alumni. Gather information through webinars, tours, Q&As and personalized portfolio consultations to learn more about SAPL programs, student experience and career paths. Some sessions are offered more than once, and all information sessions and portfolio sessions are offered in an online format.
Out of town? Explore SAPL virtually →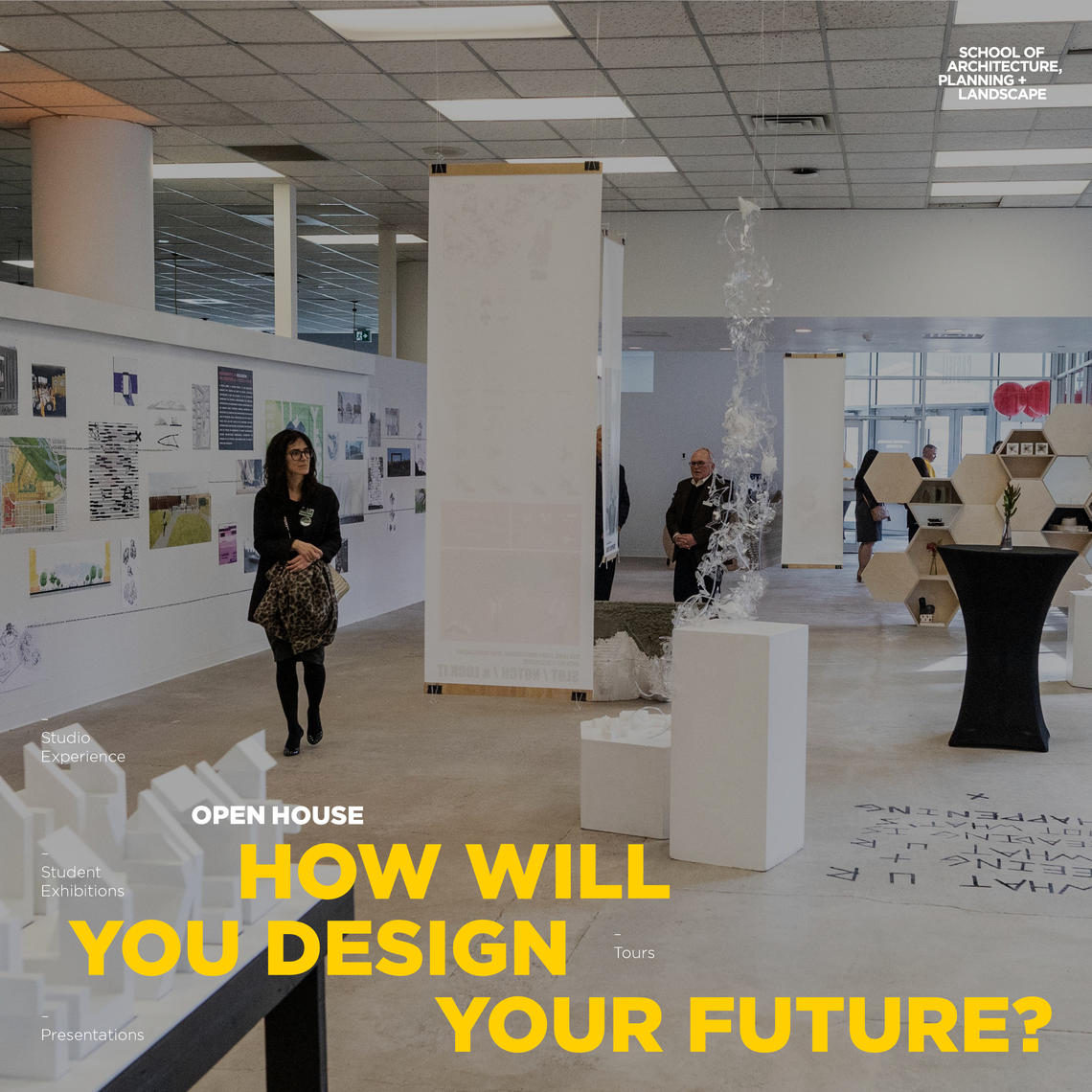 Please join us for a drop-in question and answer period! We will be available for the hour to make sure that you get fast, clear, and accurate answers to all your admission questions.
​​​​​Join us for our SAPL Student Stories short lecture series, comprised of discussions with current students and alumni. Each 30-minute session will offer a unique student perspective, covering the Master of Architecture (MArch), Master of Planning (MPlan), Master of Landscape Architecture (MLA), and Master of Environmental Design (MEDes) programs. Each session can be watched as a stand-alone experience or as part of the series. 
May 26 / 3-3:30 PM MDT
Studio Learning Register → 
MPlan student discusses the studio experience of the program
June 9 / 2-2:30 PM MDT
Lasting Impact Register → 
MPlan alumnus discusses the professional path they took after the program
June 21 / 10-10:30 AM MDT
Getting Involved Register → 
MLA student discusses how the program addresses environmental and urban challenges
July 6 / 5-5:30 PM MDT
Living Laboratory Register → 
MLA alumnus discusses the professional path they took after the program
July 28 / 5-5:30 PM MDT
Beyond Professional Practice Register → 
MEDes student discussing developing an area of specialization early in their career
August 11 / 10-10:30 AM MDT
After SAPL Register → 
MEDes alumnus discusses the professional path they took after the program
​​​​​Join us through the summer at our featured information sessions. We hope to see you there!
June 15 / 5-6:00 PM MDT
Application Overview: Sneak Peek Register → 
Join the SAPL Admissions and Recruitment team as they go through the application process, required documents, and deadlines for Fall 2023.
July 12 / 2-5:00 PM MDT (20 minute slots) 
Online Portfolio Reviews Register →
Opportunity to meet with a SAPL representative (faculty, senior student, etc.) to discuss and receive feedback on admission portfolio and ask questions.
Can't make one of the scheduled sessions but interested in changing the future of cities? Watch the recorded sessions.
MArch, MPlan, MLA with Associate Deans
MArch, MPlan, MLA with Students
Studio and Portfolio Tips from Professors
Studio and Portfolio Tips from Alumni
Master of Env. Design (MEDes)
Interested in a program? Sign up for the newsletter.
Receive information about programs, portfolio and application requirements, financial aid, important dates and deadlines, upcoming webinars and events.
Thanks! You'll get a confirmation email shortly.
Collection of personal information
Your personal information is collected under the authority of section 33(c) of the Freedom of Information and Protection of Privacy Act, and is required for updating your email subscription preferences. If you have any questions about the collection or use of this information, please visit our Access to Information page.