Beyond a Cutting-Edge Education 
SAPL's programs provide students with the digital prowess to think differently about how buildings, landscapes and cities can be designed and function more synergistically to respond to the pressing challenges of our time. This training combines the creativity of design with the knowledge of making physical things to optimize the full system of city planning and building. 
Students learn a multitude of 3D modelling, rendering and graphic design programs that communicate design vision and strategy, as well as technical and building information modelling tools. Students also use digital fabrication methods such as 3D printing, laser cutting, and CNC milling.
But beyond that, SAPL specializes in digital making tools that prepare students for emerging needs in city building:
Robotics fabrication: physical things made from data, and
Data-driven planning platforms
Physical Things Made From Data
Advancements in robotic fabrication and construction processes provide new opportunities for exploring materiality and construction techniques. Armed with four robots and a crew of 3D printers, students in the architecture program can learn about design and manufacturing workflows, and how digital data can directly drive robotic equipment to manufacture various part geometries. The data usually comes from CAD (computer-aided design), which is then transferred to CAM (computer-aided manufacturing) software.
Portable, easily deployable gridshell and seating designed and executed by students became a rooftop gathering spot for Inventures Conference 2019.
Dr. Alicia Nahmad Vasquez teaches a course that explores the development of novel designer-machine collaborative architectural design processes — students Edward Park and Cindy Nachareun partnered up on the design.
Student-designed piece manufactured using a series of flat rods, each profiled individually, creates a 3D form of pixelated art that is the centre of a community just west of Calgary.
Responsive technologies combined with 3D-printed lamps reimagine a safer, vibrant urban experience in  Calgary's downtown
The design for this art piece emerged through an examination of images, patterns, and raw data taken from Solium's history and environmental context.
The Next Great Trails | Thu Ngo | 2019
Master of Landscape Architecture students create film shorts to articulate the story and vision of place. Select student work was exhibited as part of the Design In Motion exhibition, Fall 2020.
The practice of using textiles to make soft building enclosures is an ancient practice. The 2021 Taylor Block Week combined sensing technology with the art of origami to make portable, foldable fiberglass structures embedded with sensing capacity.
Each year, the LID Director of Fabrication, Guy Gardner, teaches an Introduction to Robotic Fabrication course to explore emerging trajectories in computation.
2017 - Each year, Jason Johnson, director of the Laboratory of Integrative Design, along with Guy Gardner, director of fabrication, teach an Introduction to Robotic Fabrication course at the University of Calgary. This project by student David Schiwy explores robotic fabrication through completion of a self portrait. This is done while working through the challenges and constraints of art through an industrial robotic arm, designing and building a robotic tool, and creating a tool path communicative of a self portrait. Schiwy explores these challenges through paint pouring.
Spring 2020 - Guy Gardner, LID Director of Fabrication, taught a Computational Design in Architecture course at the University of Calgary. A project by students Anna Guan, Brendan Webb, Judy Liu, Mac Mcginn, Marina Malik, and Xuefei Wang explores this topic thorough the use of data to shape space, provide transparency to public infrastructure and overall increase public engagement. These elements include a breathable media facade, adaptable columns, and kinetic floor panels, which respond to user interaction and data collected from public opinions via kiosks and a phone app of city projects.
Data-Driven Urban Planning
Planning students, in addition to learning design programs that facilitate the visual communication of placemaking ideas and visions, learn how to fly drones and integrated data with GIS mapping software, use digital platforms for engagement, and feed databases with live data via the Internet of Things (IoT). This training sets future planners up with the ability to recommend smart management of resources, enhance economic development, reduce ecological footprints and improve the overall quality of citizens' lives.
MPlan faculty have been partnering with the Federation of Calgary Communities since 2013. The pandemic prompted an industry collaboration that pushed the boundaries for digital engagement.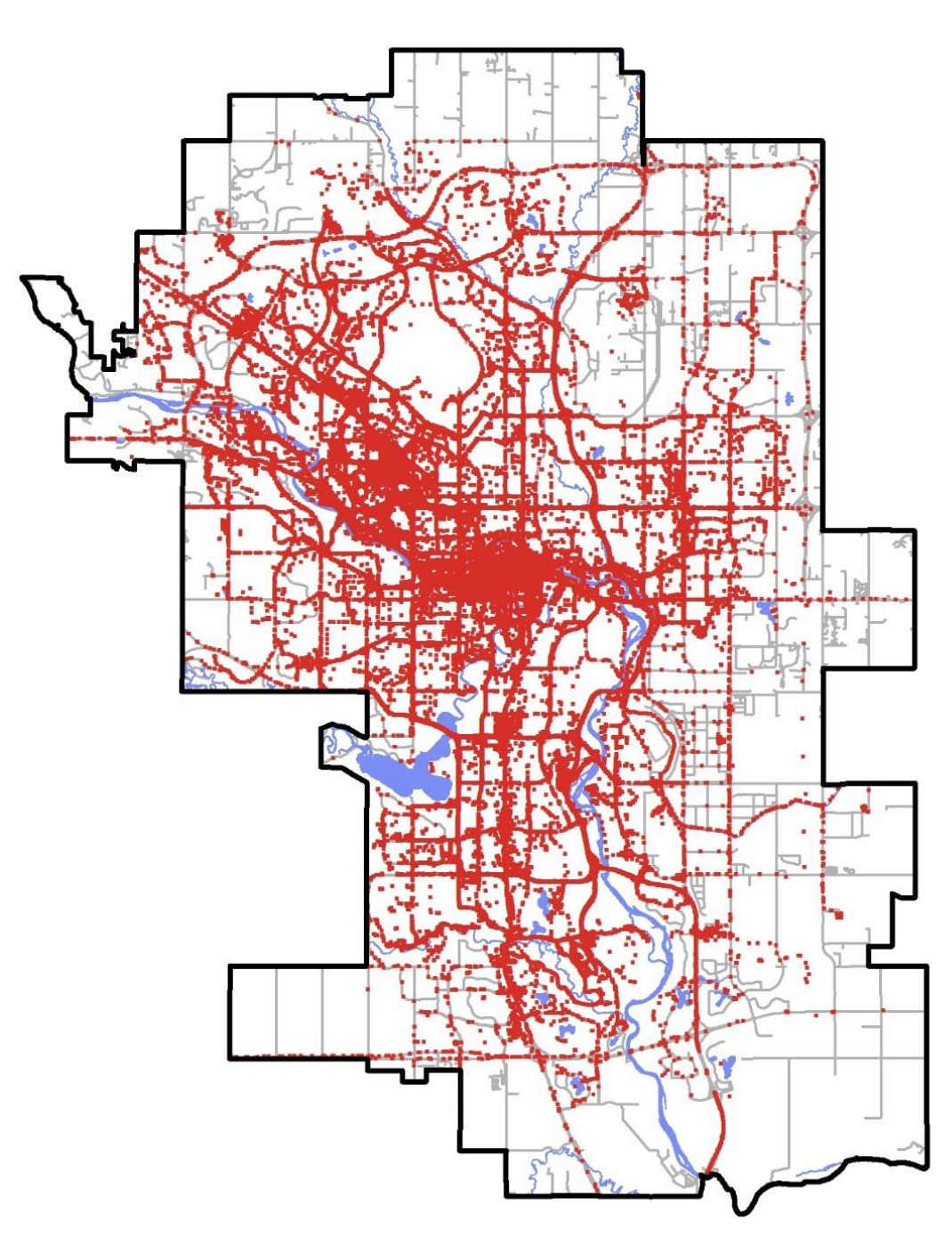 Francisco Alaniz Uribe uses drones and virtual reality to supplement traditional research methods to better understand walking behavior and the built form. One of the data inputs is "the GPS in our pockets".