Reimagining Stephen Avenue
Stephen Avenue is, and always has been, Calgary's iconic downtown main street. It is a critical amenity for attracting new businesses and tenants downtown. With the physical conditions of Stephen Avenue deteriorating, there is an opportunity to define a new path forward that sends a positive message to property and business owners, and to the citizens of Calgary. 
The Future of Stephen Avenue
The City of Calgary has embarked on a journey to reimagine Stephen Avenue and position it for a renewed era of success. As a flagship project for Calgary's Downtown Strategy, The Future of Stephen Avenue project provides a foundation for The City to collaborate with stakeholders, including the University of Calgary, to consider and implement strategic improvements – whether near, medium or longer term – that will re-position Stephen Avenue, and ensure its future as Calgary's hallmark downtown Main Street. Many SAPL students volunteered with Gehl Studio and Stantec, the consultant team, during summer 2019 to contribute during the ideation and exploration process.
To learn more about the project, please visit calgary.ca/stephenavenue.
The strategies guiding the Stephen Avenue master plan are informed by grassroots ideas that foster the right environment that attracts private investment, stimulates economic growth, and creates amenities that everyone will enjoy for generations to come.
Eileen Stan, Calgary Downtown Association
One of the reasons SAPL created the City Building Design Lab is to have a living lab in the heart of downtown Calgary for pilot projects like the Stephen Avenue Revitalization. 
Our faculty works hard to ensure the lab and its programming continues to give students unique opportunities to connect with the building community in an exploration about how innovations in design, construction and operations can facilitate more resilient, equitable, vibrant, prosperous, and healthy cities. SAPL participation in the Stephen Avenue initiatives contribute to the fabric of the downtown, while at the same time providing meaningful research and learning opportunities for students.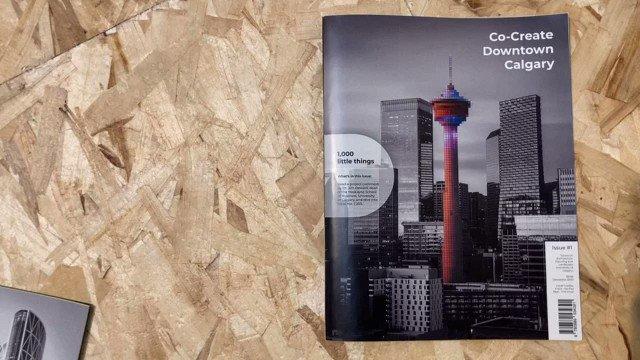 The NEXTCalgary #1LT initiative is an explorative analysis on co-creation and engagement focusing on downtown Calgary. The research initiative resulted in a brainstorm of  future versions of Calgary's economic, physical and social configuration. It's not about one singular plan. It is about small, interconnected pieces of a greater vision—a shared, accessible, inclusive and, most of all, active and proud city centre. The project, funded by the Richard Parker Initiative, resulted in a community brainstorm of micro-interventions to spark positive change.  
The project, led by Dr. Fabian Neuhaus, came to life with the collaboration of UCalgary students Darby Henshaw and Asawari Modak (both MPlan), various community stakeholders, and global experts. 
Once famed as the heart of Canada's fastest-growing cities, downtown Calgary has struggled with the COVID-19 pandemic and an ongoing economic downturn. Efforts to diversify and make the downtown more habitable and increase diversity in business and culture are underway.  There are many opportunities and potential built into the city's core. With small-step transformations and a broad basis of active stakeholders, long-term change can happen. 
In the fall of 2020, in just over five days, a collaboration between UCalgary students and downtown stakeholders came up with more than 1,000 unique ideas for transformation in increments.  Keynote inputs from local and international experts augmented this process.  The collection intends to support the broader discourse and specific conversations around implementing change—one little thing at a time. 
The initiative showcases the power of connection and co-creation. The physical barriers produced by the COVID-19 pandemic inspired an exploration of using social media, specifically Twitter and Instagram @nextcalgary #1LT, as a tool to generate discussion about civic space, share ideas and engage with other community voices.    
A print copy of the resulting publication is available at  Shelf Life Books downtown (Calgary). Digital publication is available at Amazon, Apple, Barnes & Noble, Kobo and others.
Moving forward, the goal of the #1LT movement is to explore the physical installation of co-created ideas and analyze how tangibility impacts engagement and community response.
There are endless possibilities to reinvigorate Stephen Avenue—the heart of Calgary's downtown core. What's important is believing that we can make a difference and taking the first steps together.
Panaudicon, Chinook Blast
In Fall 2020, a group of students in the Master of Architecture program joined creative forces to make a fascinating purple light for their studio class. 'Light' is, of course, an oversimplification for this modular sculpture they've called Panaudicon – eight six-sided units, reminiscent of snowflakes, joined by a crystal-like glowing core. Made of PETG and foam, and constructed using exploratory robotic fabrication techniques, 3D printing and laser cutters, the units can be clustered together or installed separately.
Initially created as a final project for their studio class, the team decided to submit their design for Chinook Blast 2021. "It seemed like the perfect setting to use this design approach to engage with the public. It also seemed like an exciting opportunity to give people a glimpse of the kinds of things that go on in our faculty," explains team member Vikram Johal. Festival organizers selected the project to be installed in downtown Calgary.
"To be able to take a project that originated from a collaborative studio and be able to display it along Stephen Ave for people around the city to enjoy has been really exciting."