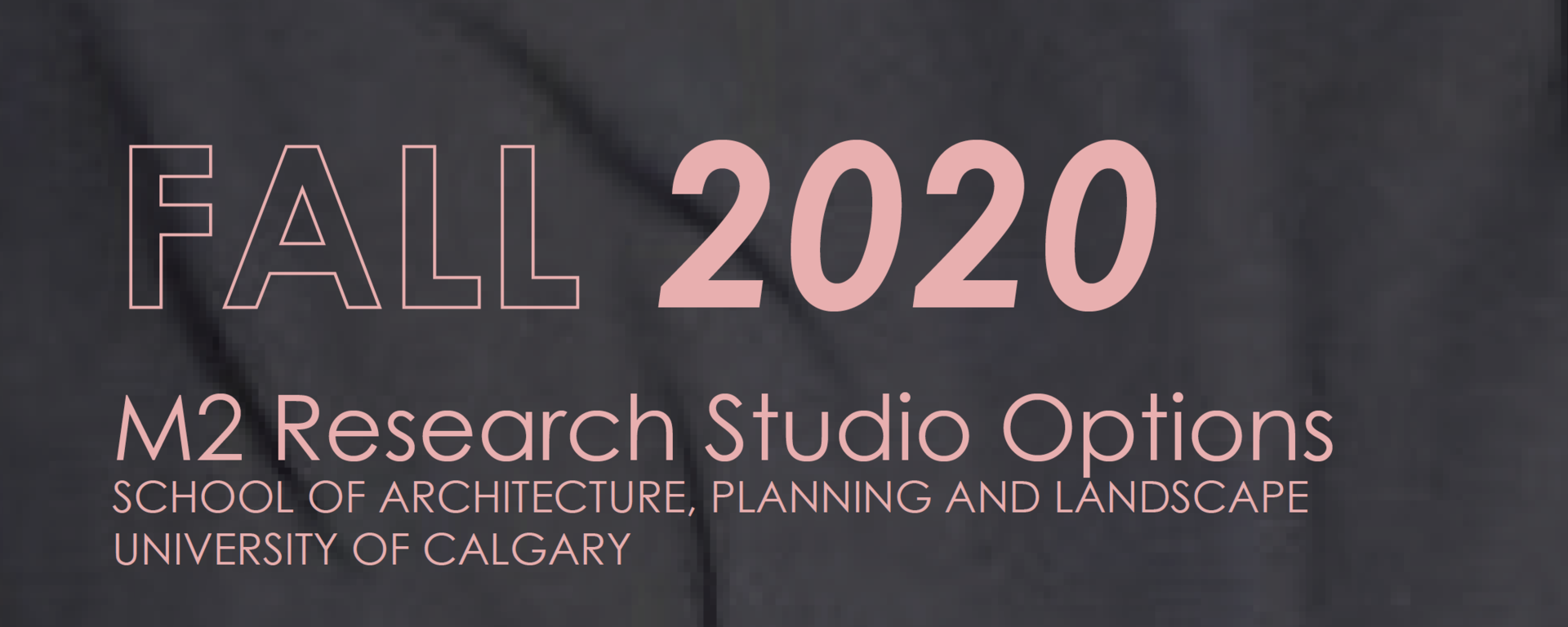 Work-Integrated Learning Studios (Fall 2020)
Unique, work-integrated M2 Studios were developed for the fall of 2020 in response to the cancellation of study abroad options and to take advantage of this moment in history when our enforced physical distance has reinforced the need to creatively design the ways we interact and collaborate as designers across the globe. This fall we embarked on a new project in the architecture program. This project is one that connects teams of students, faculty members, researchers and practitioners to address challenges facing our communities, cities, regions and nations through the lens of the discipline of architecture. Local and international design thinkers delivered design research projects that facilitate valuable experiences, networks and directions for students' futures as designers. 
~ Jason S. Johnson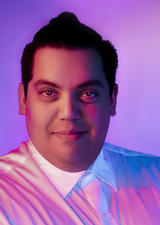 Solarpunk Urbanism: Farms, Forms, Flows and Flux
Civilization has reached a critical inflection point. And at the threshold between perdition and redemption, loss of hope is easy. Every day, a new threat—often existential—assaults our screens. In the face of such insurmountable odds, what is the role of the designer, the architect, the urbanist? The answer lies in images. 
Our power is to imagine, and then design, new possibilities of the relations between human and nature. Encouraging an optimistic version of our future, Solarpunk is a growing movement that envisions a society 1) built with renewable energies such as solar and wind power, 2) integrated with urban farming and natural ecologies, 3) embracing prefigurative politics and the twin values of pluralism and diversity, while 4) promoting self-sufficiency and decentralization of urban and governance systems. In the words of a crowd-assembled manifesto: 
"At its core, Solarpunk is a vision of a future that embodies the best of what humanity can achieve: a post-scarcity, post-hierarchy, post-capitalistic world where humanity sees itself as part of nature and clean energy replaces fossil fuels. The "punk" in Solarpunk is about rebellion, counterculture, post-capitalism, decolonialism and enthusiasm. 
Instructors
Alberto de Salvatierra is SAPL's Assistant Professor of Urbanism and Data in Architecture and Director of the Center for Civilization. He is also Founding Principal of PROXIIMA and a Global Shaper at the Calgary Hub of the Global Shapers Community—an initiative by the World Economic Forum based in Geneva, Switzerland. Aziz Barbar and Sonny Xu will serve as co-instructors.
High Level Line
Public space has always been an instrumental element in a city's urban planning agenda. Given the COVID-19 pandemic, urban spaces have resurfaced as worthy of critical contemplation, perhaps reanimation. More vital than ever, these spaces have a positive impact on our health, and also provide requisite recreational infrastructure for exercise, play, meeting and socializing with others. Quality public, open spaces are key in facilitating connections across diverse and complex urban fabrics.
The High Level Line (HLL) in Edmonton AB serves as the site for this senior research studio. It exists as both an obsolesced, 4.3km transportation infrastructure, and  an antiquated vestige of yesterday's social and cultural norms. The HLL is a multi-modal thread that connects the north and south sides of central Edmonton, activates a series of high-potential spaces and challenges how well-designed urban infrastructure can change how we move through, and also experience the city. The HLL has the latent potential to transform the urban fabric surrounding it, stimulating the surrounding properties and enabling a wide variety of uses; retail and residential frontages, dining, recreation, agriculture, celebration, people-watching and interacting with nature.
Instructors
Dustin Couzens co-founded Modern Office of Design + Architecture in 2013. An honours graduate of the University of Calgary's Master of Architecture program, and recipient of the AAA award for best thesis, Dustin also worked in Vienna for the internationally renowned firm Coop-Himmelblau. Ben Klumper will serve as co-instructor.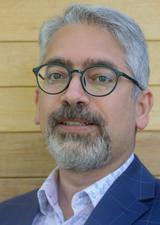 Cultural Pavilion
Although Canada is a mosaic of many cultures, its diversity is not reflected in the built environment, largely due to mass-produced building materials and commercialized architecture that result in monotonous urban sprawl void of any meaningful cultural connections to communities. 
This course will explore the themes and facets of culture within the Canadian context and how it can take shape in the form of a pavilion that can be utilized by members of the public throughout the year. Students will be asked to research, analyze, and discuss a community's cultural facets through the lenses of history, density, typology, demographics and character. They will address and challenge certain established facets in the form of an intervention on a selected site. Students will be encouraged to use a wide range of software and digital fabrication technologies to develop a pavilion design that bridges public art and architecture, as well as demonstrate its construction.
Instructor 
Farhad Mortezaee is a registered architect and the principal of FarMor Architecture, an award winning architectural practice established in 2012 . Farhad holds an MArch degree from Mashhad Azad University and a post-graduate diploma from the Bartlett, UCL, UK. His research interest is design process management. Farhad is currently serving a second year on the AAA Council.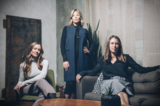 The Architecture of Story Telling
This studio will explore social space, adaptive re-use and storytelling. 
The building program will include a combination of hospitality (food and beverage) and residential offerings. FRANK Architecture will be involved in a collaborative process to develop the hotel concept and design the interior fit-out. Students will be challenged to explore the potential of this project by developing a design narrative unique to their individual interpretation, and pursuing their research through a directed approach to design development.
The studio will teach iterative design that grows from the framework and/or idea the client brings to the architect, with the goal to embellish and accentuate that vision functionally and aesthetically.
Instructors 
FRANK Architecture is an imagination-fuelled award-winning, full-service architecture firm with offices in Calgary and Banff. Established in 2009 and led by principals (and SAPL alumni) Kelly Morrison, Kate Allen, and Kristen Lien, FRANK has completed more than 100 projects across Canada, including large-scale commercial projects that enhance urban landscapes, residential designs that elevate day-to-day life, and hospitality projects that provide authentic experiences and have become landmarks in their own right.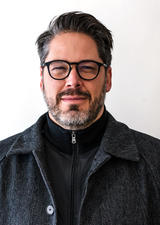 Content Aware | Protocols for Scalar Prototypes
Ubiquitous Simultaneity: Vast amounts of data (visual, spatial, performative, historical) are available simultaneously in overlaid digital formats and manipulated constantly through machinic interfaces. Within this context the architect can leverage both the historical (precedent) and predictive 
(simulation) characteristics of technology to reformat architecture across scales. First as prototypes and drawings then as material processes and finally as built artifacts. These prototypes, drawings and artifacts will be tasked with demonstrating linkages through material and visual means between the content of the project (formal, functional, interpretive) and the content of its adjacencies (physical, historical, atmospheric, scalar). Processes for achieving these connections should be explored at a number of resolutions through visual and material means.
Instructor  
Jason S. Johnson has practiced and taught architecture in North and South America and Europe. He is a founding partner of the Laboratory for Integrative Design at the University of Calgary and has exhibited design work related to research in the areas of responsive architecture, generative design, digital fabrication and integrated techniques. He is the co-author of Digital Design Exercises for Architecture Students a primer on generative design strategies for the beginning design student.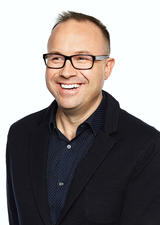 Empathy and Community in Architecture
We are at a precipice in social consciousness that demands a cultural shift in how we respond to the built environment. As architects, we have a responsibility to ourselves and to others, to create meaningful places that prioritize reciprocity over authority.
The course explores notions of empathy and community through a variety of lenses: Social Connectivity and the generation of Equity and Equality, Ownership + Permanence in establishing Dignity; Isolation vs. Independence and the Importance of the defined 'Third Space'; Sustainability and Accessibility; Relationship between Physiological and Psychological Health. 
Instructor 
As a principal of MTA Inc. and member of the City of Calgary Urban Design Review Panel, Jeff Lyness strives to create projects in architecture and urban design that enrich a sense of place and belonging for those that own, occupy or interface with them. Throughout his 20 years of professional practice in delivering complex projects with varied stakeholders, including UofC Downtown Campus, he has learned that transformational design often comes from a collaborative process that balances the needs of all project stakeholders to produce a project experience that is beautiful and memorable for all.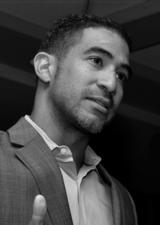 Urban Entrepreneurship Detroit
While Detroit's rebirth can be traced to a family of companies and the survival of expert citizens whose "never quit" or "we never left" mantra is hard to ignore or miss across the urban landscape. While the Detroit revival may be attributed to focused investment in its core, the development of marquee community projects in key neighborhoods like Midtown, E. Riverfront, Brush Park, or Corktown are also moving Detroit forward at an impressive pace.
This embedded critical practice studio experience will explore two unique projects in Detroit. The differences between the two sites highlight an opportunity to explore urban scale, urban community development, environment and new ways of living.  The research completed in this practice expands on existing and ongoing work by two design entrepreneurs with unique backgrounds and ways of working.
Instructor
Wil Marquez uses innovative design principles to probe ideas of public space, architecture, and community development. Under his direction, w/Purpose has developed a unique "bring people to design" portfolio that includes some dynamic public spaces, homes, urban developments, interior strategies, and eye catching affordable housing.
While trained as an architect, Marquez aims to foster a socially conscientious, culturally driven, and entrepreneurial spirit around neighborhoods and cities.  This way of working has earned him a solid reputation for design thinking, visual storytelling, strategy, and management. He has lectured in South and Central America.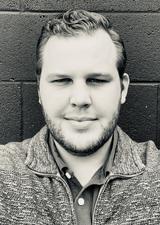 Urban Entrepreneurship Detroit
The outcomes will advance students' representational competency, while developing skills to critically analyze ways architecture and social entrepreneurship can influence change and understanding.  We hope this studio will invite students to use the process to expand their expectations on how to work in today's world, while tackling real design challenges.
The research will explore contemporary issues regarding housing, environment, landbanking, connectivity, and issues related to how people live, work, and play in the future.  The goal of this studio is to explore new development ideologies, expand our understanding of urban systems and development, and educate ourselves by facilitating a professional feedback loop with guest speakers, experts, and citizens.
Instructor
Michael Mondo attened Arizona State University and Lawrence Technical Institute for architecture before being called to home construction and development in the Detroit Metro area.  His attention to the details of construction go together goes hand in hand with his passion for transforming homes with a craftsmans touch and architectural eye.
While LIVE Mondo has grown significantly over the years, Michaels entreprenual spirit can be seen through his community development ambitions in the N.W. Goldberg neighborhood.  His recent acquisition of an 8,000 sqft Italian Renaissance multi-unit will be an important catalyst for a renewal strategy that will help grow the neighborhood.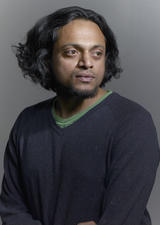 Mass Timber Housing
The design research studio is looking at the intersection of modern methods of design and construction in timber and vernacular building and material cultures in Canada, particularly Alberta and British Columbia. Students will work on capturing local housing regulations through digitally developing parametric tools and catalogs. This work is focused on building a body of research that can be shared with professional and academic audiences interested in the role that timber could play in public buildings.
ZHCODE is a practise-embedded research group focussing on strategic innovations that bridge from disciplinary advances to industrial applications. Our work, guided by our deeply held values of future oriented design also learns from the wisdoms of the past – particularly local and vernacular wisdoms in masonry and timber construction, climatic appropriateness and spatial arrangements and details.
Instructor
Shajay Bhooshan is a Senior Associate at Zaha Hadid Architects where he co-founded and heads the research activities of the Computation and Design (ZHCODE) group. He also works as a studio master at the Architectural Association DRL in London. He pursues his research in structure and fabrication aware architectural geometry as a PhD Candidate at the Block Research Group, ETH Zurich. Previously, he has worked at Populous, London and completed his M.Phil from the University of Bath and M. Arch from the AA School of Architecture, London.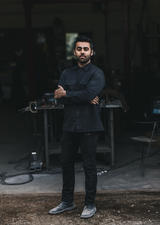 Offsite/Onsite Prefabricated Hybrids
The research studio at Mercedes and Singh decontextualizes research from other disciplines and grounds it within architecture through the adaptation of the BIM equivalent modular and prefab strategies used in energy, hospitality and other apophenic sources. This is done through the development of parametric models applied to contemporary architecture and design, and architecturally decoupled influences.
This research project is as much a manifestation of the digital-physical duality, as it is a means to freedom from conventional methods of creation, freedom to push the design discipline to critically participate in the shaping of an adaptable and fluid methodology of design thinking through materiality, digital and analog fabrication, automation, computation, and technology. This project focuses on the ability of the designer to reanimate the vision of the built environment, provoking a prefabrication onsite/offsite hybrid workflow across scales, that imposes no limit to aesthetics and design intent.
Instructor
Sumer Singh operates his creative practice at the intersection of design, engineering, and architecture. Since 2013, the studio has leveraged both digital and analog technologies to solve design problems at various scales from objects to architectural installations and prefabricated products. Sumer Singh has a Master of Architecture from the University of Calgary.