Design Matters 2018/19
Thank you to all guest speakers and attendees for a great season. See you in September 2019!
FALL TERM 
Location: St. Louis Hotel, 430 8 Ave SE
SEPTEMBER 19, 2018
Mark Anderson and Peter Anderson Partners
Anderson Anderson Architecture, San Francisco
Brothers building together since childhood – architecture in the means of production
OCTOBER 17, 2018
Pooya Baktash, Co-Founder
PARTISANS, Toronto
Beauty emerges when design misbehaves
NOVEMBER 7, 2018
Amy Whitesides, Studio Director
Stoss Landscape Urbanism, Boston
Building Resilience: the expanded role of urban/landscape hybrids in a changing climate
DECEMBER 5, 2018
Borja Ferrater, Founding Partner
Office of Architecture in Barcelona (OAB), Barcelona
OAB RECENT WORKS: From geometry to space by means of construction, landscape and social systems
WINTER TERM 
Location: New Central Library, 800 3rd Street SE
JANUARY 16, 2019
Sierra Bainbridge
MASS Design Group, Boston
Architecture is never neutral; it either hurts or heals. How can we intentionally use architecture as a tool for healing?
MARCH 12, 2019 *BLOCK WEEK!*
Dora Epstein-Jones
CED Berkeley 
Discipline and Reward, the Birth of Practice
MARCH 13, 2019 *BLOCK WEEK!* 
Julie Larsen APTUM, Syracuse University 
Counterfactual Materiality: Using Computation, Fabrication, and Environment to Design Beyond Existing Materials
MARCH 14, 2019 *BLOCK WEEK!*
Florian Idenburg
So-IL 
How do we create open buildings for a divisive society?
Registration Closed
APRIL 18, 2019 
Sir David Adjaye
Adjaye Associates, London UK 
One of the most influential architects of this generation on his work and architecture as a social force
_
For More Information 
Vita Leung
Manager, Marketing and Communications
vita.leung@ucalgary.ca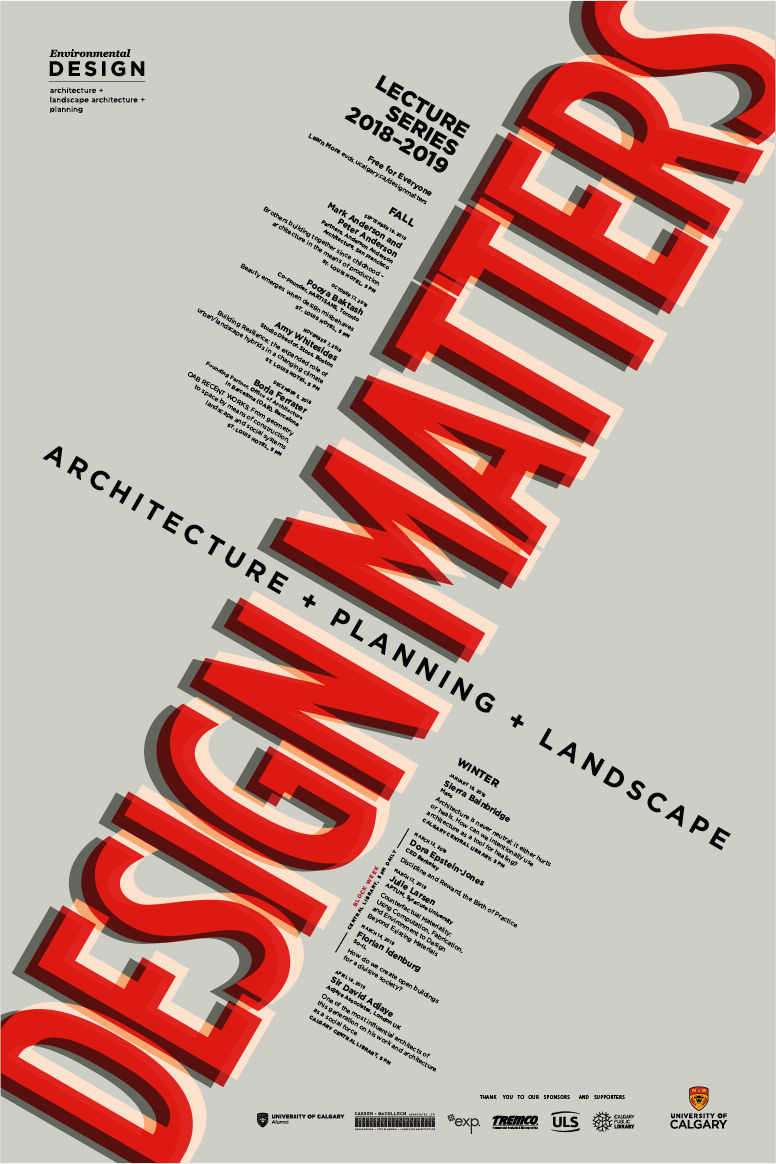 Graphic design by Fulcrum