James Brown
"Shaking a building unearths what is unnecessary" - Alejandro Aravena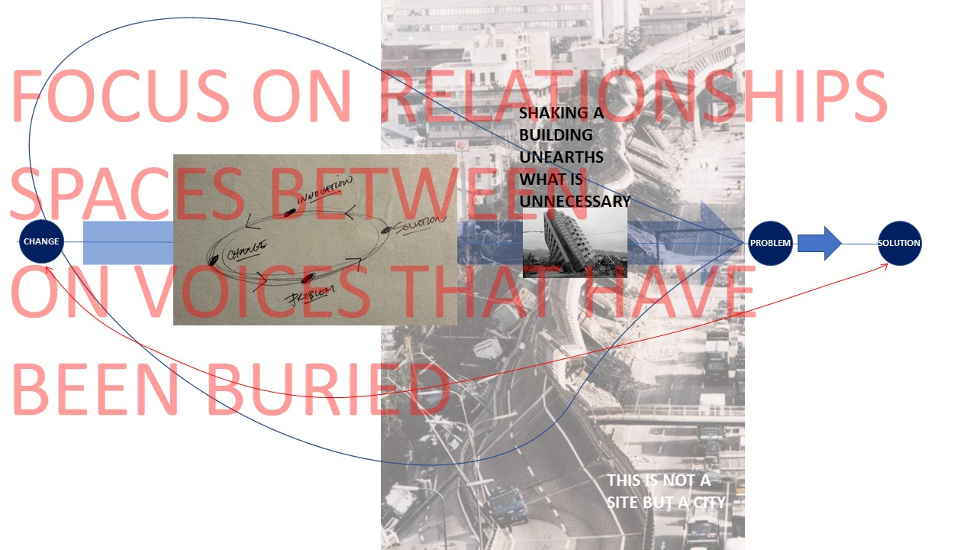 The shaking is intentional. The ground where we stand is falling away. The places that we know are not what they seem. The old stories and tools of the trade do not provide answers anymore. There is an anxiety that is driven by what we do not see. What is not being brought forth?
It is like a haunting – that which cannot be forgotten but remains elusive or buried.  I remember a story that was told to us when working on a recent project. We came to the site with our bag of tools, our presuppositions, and after weeks of effort we were told directly, "You do not understand the ground you are walking on. Stop looking away, you are here." 
How did we not see or hear this?  
Perhaps what we thought was necessary is buried and not perceptible. Will the shaking open fissures and allow us to see new relationships which will allow us to both re-imagine the ground and to re-imagine the problem? In this moment, that is defined by uncertainty and change, can a practice be open to allow for underground voices and tools to define a problem? How can these voices be maintained through the life of a project and what does this mean for a project from design to built form?
What might a practice look like after this?
James Brown is an architect and partner at Zeidler Architecture in Calgary, Alberta.   Zeidler is a leading Canadian architectural practice with offices in Toronto, Calgary, Vancouver and Victoria. 
Prior to becoming an architect, James completed a master's in fine arts at Concordia University, Montreal.   He practiced as a visual artist for 10 years while living in Ottawa and Montreal.   His practice used multi-media installations which focused on the connection between place and memory.  The work looked for the blind spots that occur between these spaces. He has exhibited throughout central and eastern Canada.  
In 1998, James, started his architecture practice with Bing Thom Architects in Vancouver.  As a director, James has worked on many high-profile performing art centres and post-secondary institution in North America and Asia.   These projects were primarily civic/cultural focused.  Many of these projects had deep connections to the community where they were located, James work was specifically focused on the intersection between building and the public realm.   In 2018, James joined Zeidler Architecture in Calgary and is currently bringing this same ambition to his projects with Zeidler.
He is currently lead architect for Macewan University School of Business, University of Alberta's Convocation Hall, University of Alberta Dentistry/Pharmacy Renewal,   He is also leading one of North America's largest urban design projects on First Nation's land called 'Taza'.