Alumni Profile: Matt Walker, BA'18, MArch'20, MEDes'21
"Born and raised in Calgary, I was interested in architecture for a long time before university. It wasn't until my third year of undergrad that I was sure I wanted to do a Master's degree. If it were not for the pandemic, I would have likely ended up at a firm after the Master of Architecture degree. But then the pandemic happened. And I also had an area of research I wanted to explore [so I enrolled in the Master of Environmental Design degree.] The MEDes was definitely worth it as it helped put me where I am today – both in terms of the research but also through establishing my network."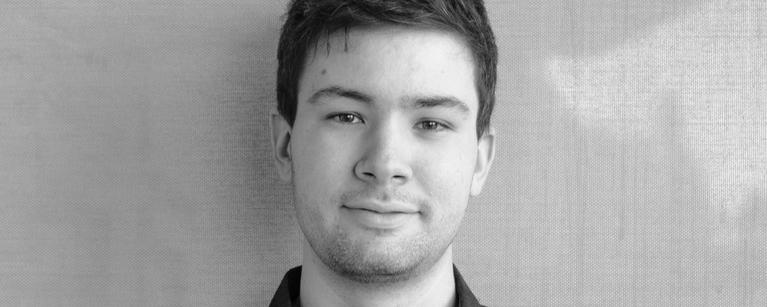 Where in the World is Matt Walker?
In Fall 2021, Matt Walker graduated from the School of Architecture, Planning and Landscape with a Master of Environmental Design (MEDes) degree. It was the culmination of a seven-year, three-degree journey for this native Calgarian.
So what happened after convocation? Did all the degrees and the hard work pay off? Is Matt gainfully employed doing something he enjoys? (Asking for a friend.)
SAPL checked in with Matt for a quick update on his life's trajectory since December 2021.
Where are you working now?
I am working with the computational design + research team ZHCODE at Zaha Hadid Architects in London.
How did you get this job?
Much of the work I had been doing in my Master of Architecture and MEDes degrees aligned with the ethos of ZHA and ZHCODE, but of course I have to give tremendous credit to SAPL instructors and professional mentors who helped connect me to the firm.
Is this the kind of work you imagined you'd be doing with an MArch/MEDes degree?
I would say that it is exactly the type of work I wanted to be doing, especially as I started to develop my specific interests through my M.Arch and MEDes degrees. It was not something I had expected, and I feel rather fortunate that my career has started in this direction. It is the type of work and studio environment that encourages exploration in computational design workflows while giving the freedom to test new ideas, and to work with talented designers from around the world.  
How does this job compare with your initial aspirations as a graduate student?
Working at ZHA has shown me that while I have my aspirations within the field of computational design, the landscape is very broad. I would say that a firm such as ZHA, and the ZHCODE group in general gives the framework for those aspirations to take shape. 
What kinds of projects are you working on?
Though I cannot talk about the projects openly, I can say I am working with various team members on the intersection of timber design and computational workflows. This was something I found interest in while doing my MArch and MEDes at SAPL, which I found extended well into ZHA. 
How did the MArch/MEDes prepare you for this position?
Initially, I would say I found interest in procedural and algorithmic approaches to design, which I gained exposure to early in my MArch. As I developed those interests over the years, as well as their intersection with material and fabrication processes, my experience through SAPL offered plenty of opportunities to launch my career in this direction. 
What do you wish you'd known coming into this position? 
Being a part of ZHCODE is a process of continuous learning. Though I had always thought of myself as someone who liked to learn new skills (software, design philosophies, practices, etc.), the emphasis on learning is amplified in ZHCODE. The capacity for learning new skills and directly applying them into real projects is rapid, exploratory, and challenging work. While it demands a lot out of you as a designer, it is quite fulfilling when you get to see the output of your efforts. In other words, it feels quite like Architecture school. 
What's the best part about living in London?
My favorite thing about London is that it is a city of activity. Depending on where you go, there always seems to be something going on. Whether you are commuting through central London to work, going for out for a beer in Shoreditch, or shopping in Soho on the weekends, the city is bustling with energy. 
Relevant Links/Details
https://ucalgary.ca/news/class-2021-5-questions-matt-walker

https://sapl.ucalgary.ca/future-students/undergraduate/minor-architectural-studies-arst
https://sapl.ucalgary.ca/future-students/graduate/master-architecture-march
https://sapl.ucalgary.ca/future-students/graduate/master-environmental-design-medes
(BA'18) Bachelor of Arts in Urban Studies, with a Minor in Architectural Studies
(MArch'20) Master of Architecture
(MEDes'21) Master of Environmental Design
Previous work experience:
Mercedes+Singh Fabrication Designer, run by SAPL Sessional Instructor Sumer Singh (MArch'18).