Alumni
50 years of leadership. Since 1971, our graduates have formed a community of over 2500 alumni across Canada and worldwide.
SAPL alumni form a network of interdisciplinary, progressive thinkers who work across a spectrum of disciplines: journalism, design, education, the arts, real estate and urban planning, fashion, politics, and more. Alumni share a common vision - to disrupt the status quo.
Tag "School of Architecture, Planning and Landscape - University of Calgary" in the Education section of your profile to be automatically connected to your classmates and other alumni. Once you've done this, explore "Alumni" on the left side  of the SAPL LinkedIn page and start connecting!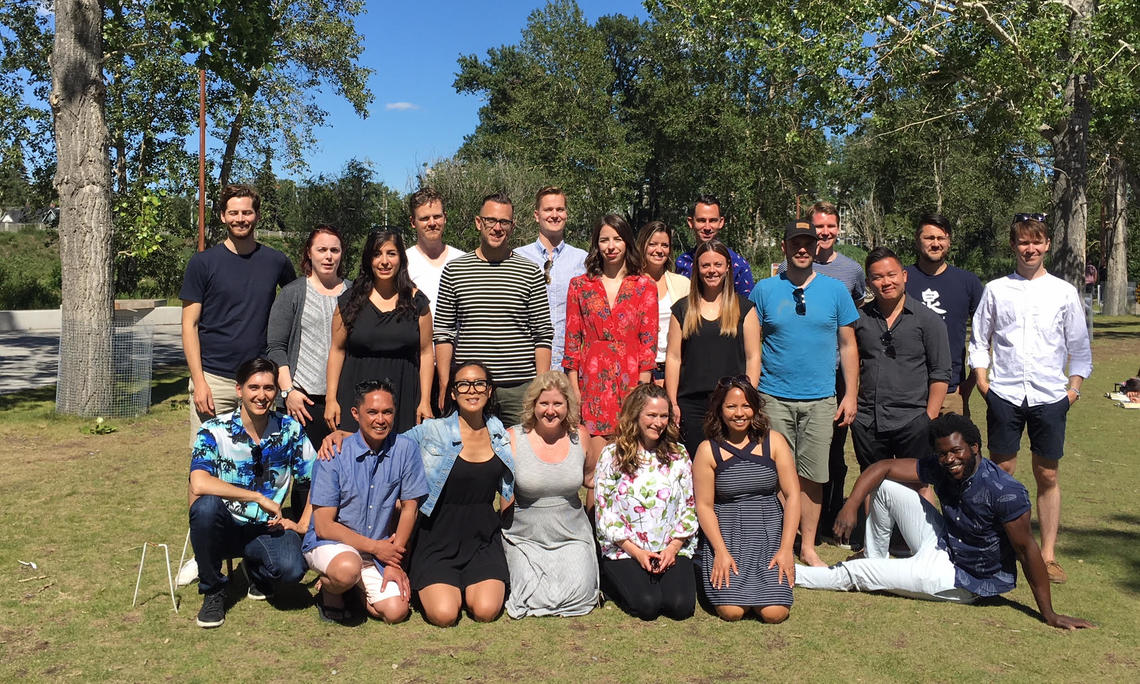 To celebrate the many achievements of over 2900 alumni, SAPL hosted its inaugural alumni exhibition in 2019. The opening of the exhibition coincided with Alumni Weekend 2019. Titled "CURRENT", the show was mounted in the 2,500 s.f. gallery of the City Building Design Lab, SAPL's downtown satellite location. Showcased was the diversity of work of over 50 alumni ranging from focused research, furniture design and architectural practices to landscape architecture, regional planning and public consultation. 
The exhibition opening was also a celebration of Douglas Gillmor's lasting legacy to our profession and city. As the founding director of our architecture program and a pivotal member of the School of Architecture, Planning and Landscape, Professor Gillmor was a compassionate and thoughtful studio teacher who shaped generations of Calgary practitioners. The Gillmor Block Course was named in recognition of his substantial contribution. 
Yves Poitras, MArch'15, is a SAPL alumnus and the recipient of the 2015 Prix de Rome for Emerging Practitioners. His 2019 exhibition, titled Combined/Between and exhibited at the City Building Gallery, explored the creation of synergies in disparate typologies, from the single-family home to the neighbourhood centre.
Meet seven alumni who are redefining Calgary with eye-popping spaces:
The School of Architecture, Planning and Landscape's Alumni Advisory Council was established in 2017 to lead and advise on alumni initiatives and services in the faculty. The Council strengthens the relationships between the alumni community, the faculty and the university, and counsels the dean and alumni staff on how to develop stronger connections with the community and provide opportunities for partnership and collaboration.  Contact Jessilyn to chat about about how you can help engage your fellow alumni.
SAPL regularly publishes spotlights on alumni careers, and also hosts exhibitions where alumni can showcase work. If you'd like to be profiled, or would like to put someone forward for consideration, please contact Pablo Fernandez.